Having a flower girl at your wedding is a perfect way to involve younger members of your family and will be sure to add a touch of sweetness to the day, as they walk in a procession ahead of your arrival. Taking part in a wedding is something little girls dream of as they get to dress up and play princess for the day. It's only right that you thank the little helpers in your wedding with a small gift so that the magic of the day lives long after it has ended.
How do you make a flower girl feel special?
Make your flower girl feel extra special by picking out a small gift to say thank you for playing her part during your big day. A piece of sparkling jewelry, a small bag to match her beautiful dress or something that will make her remember how incredible the day was. There's a gift for every girl!
Flower Girl Gift Ideas
1. Flower Girl Confetti Basket of Natural Petal Confetti $29.99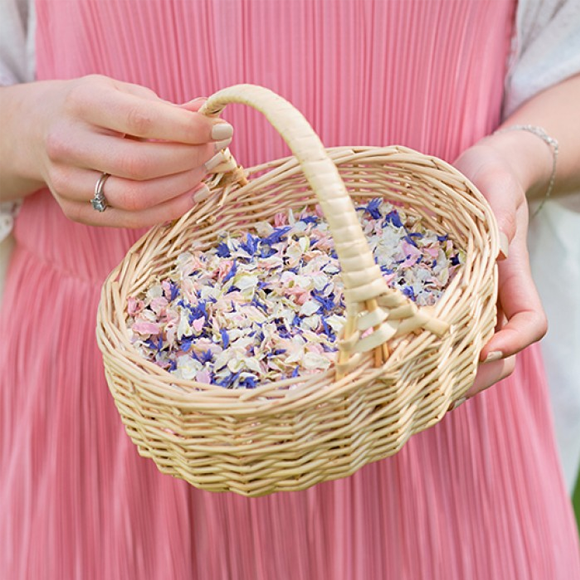 Her very own little basket filled with pretty natural petal confetti that she can scatter as she walks down the aisle.
2. Personalized Flower Girl Jersey Knit Robe With Lace Trim $24.99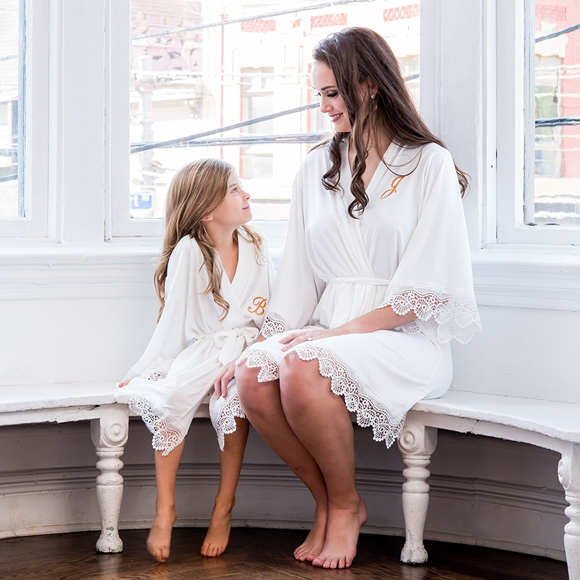 Available in a range of different colors, this beautiful robe can be personalized with her initial making it a truly unique gift for a flower girl.
3. Be My Flower Girl Engraved Keepsake Card $15.59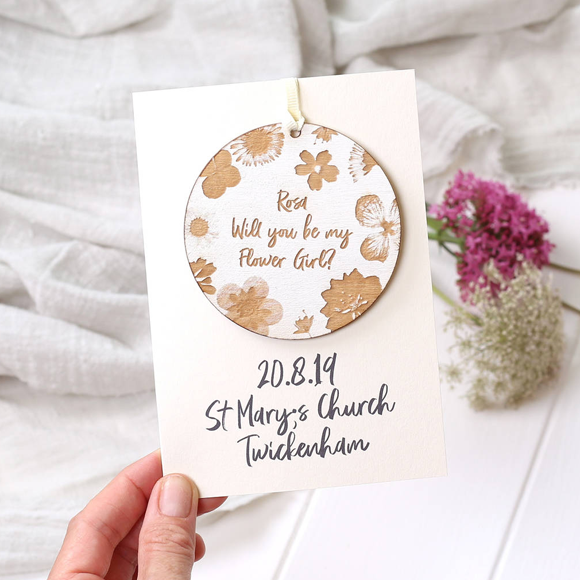 A beautiful personalized card featuring a wooden keepsake that she can then hang in her room to remind her of the special day.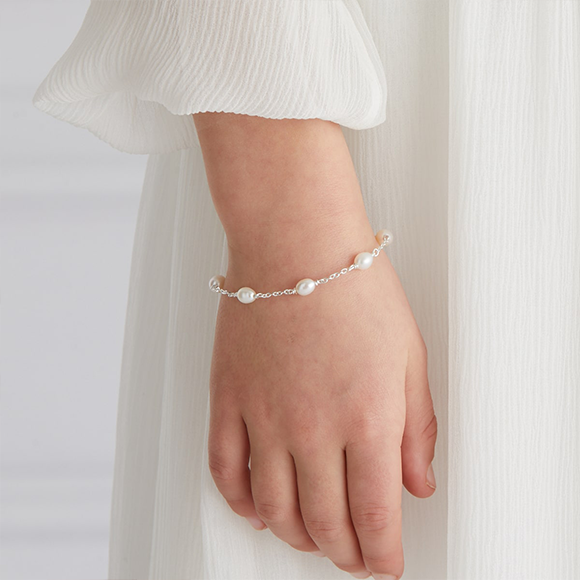 A delicate pearl bracelet to accompany her flower girl dress. Fully adjustable meaning that she can wear it for years to come.
5. Girls Ivory Rose Garland $52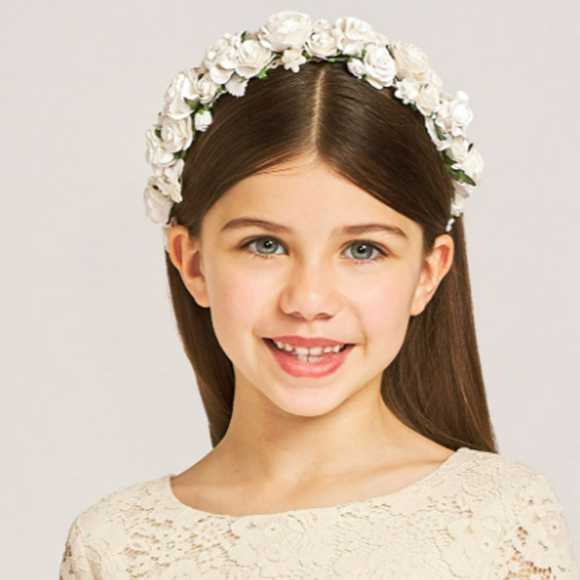 A practical gift, a floral headband that she can wear to your wedding and future garden parties.
6. Mini Perfect Pouch Flower Girl £15.99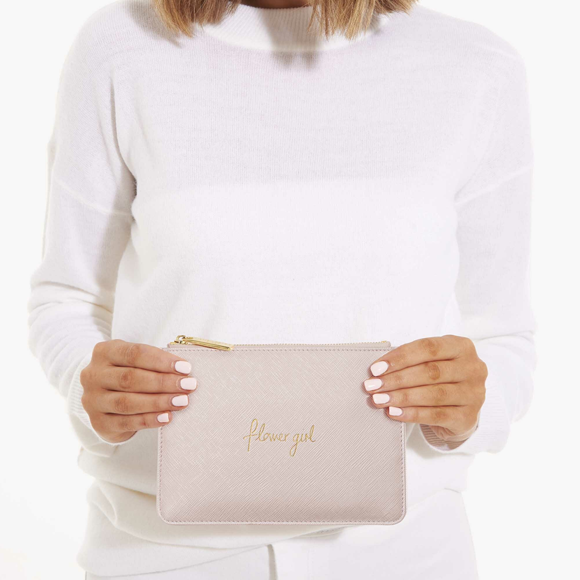 For the slightly older flower girl this perfectly personalized pouch that she can fill with treats to get her through the day.
7. Amelie Alphabet Mini Rectangular Travel Jewellery Box $21.50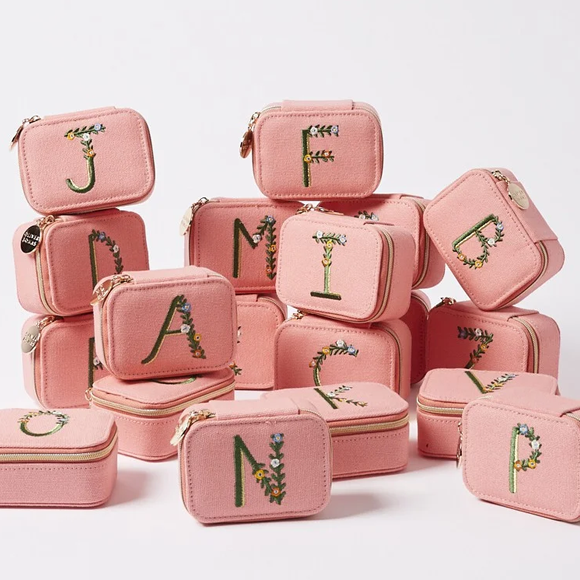 If you plan on gifting her a little something sparkly to say thank you, then why not gift a piece of jewelry in this adorable personalized jewelry box, which she can keep long after the big day and will always remind her of the magic of the day.
8.Personalized Children's Pearl Heart Necklace $91.00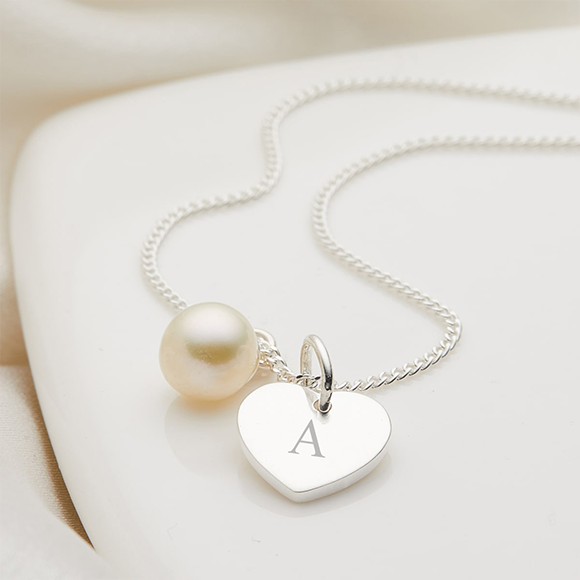 A perfectly pretty and modern take on the treasured pearl necklace makes this the perfect flower girl gift for a flower girl of any age.
9. The White Company Bunny Slippers $35.00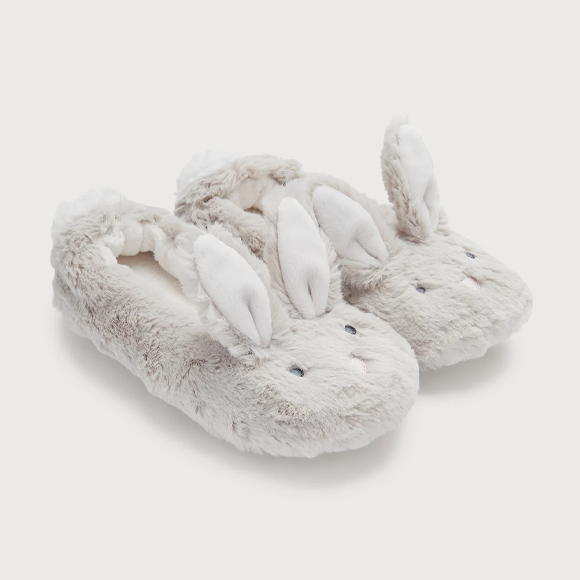 For when she wants to party into the night with the adults, maybe she can be tempted to go to bed with these adorable bunny slippers. She will be thankful after spending all day on her feet.
10. I'm a Flower Girl!!: Activity and Sticker Book $5.21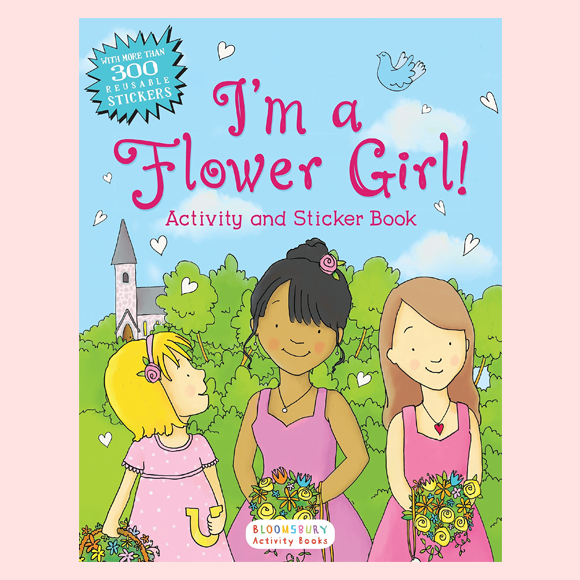 Keep them entertained and involved throughout the day with this flower girl activity book containing 300 reusable stickers. Especially handy during any important speeches.
11. Personalized Flower Girl Print $28.35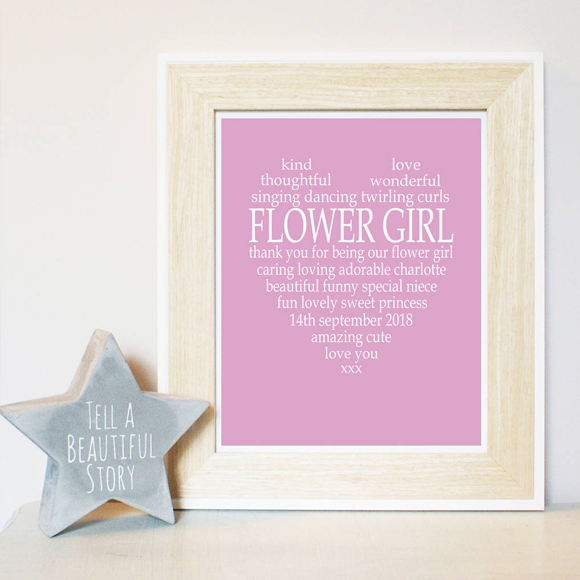 Show her how much you care with this personalized print, highlighting all of the things you love about your little flower girl.
12. Be My Flower Girl Letterbox Gift $22.56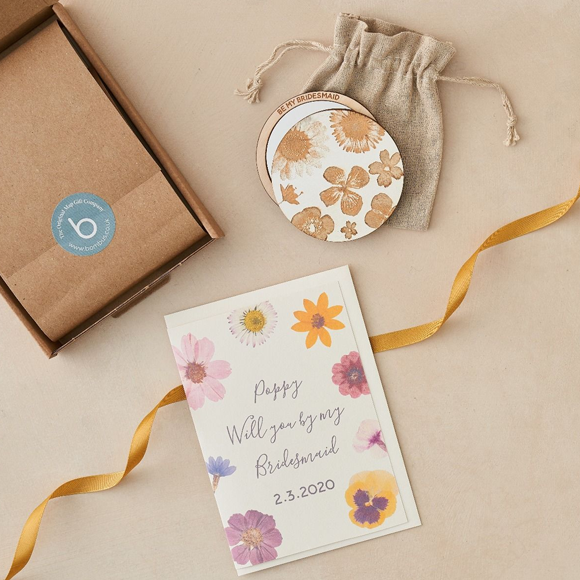 If you can't ask her in person, ask her through this beautiful personalized letterbox gift set. Featuring a card and engraved compact mirror.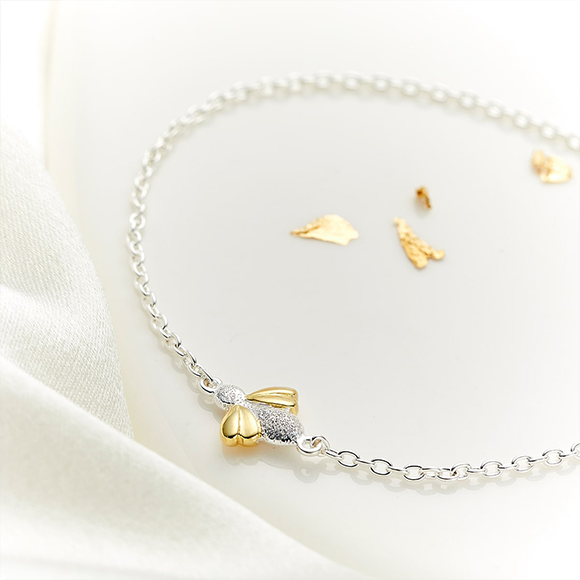 Perfect for springtime weddings, this dainty 18ct gold vermeil honey bee bracelet is the perfect addition to your flower girl's outfits. Molly Brown London also has a variety of other flower girl bracelets featuring diamonds and pearls.
14. Grow Your Own Bouquet $22.68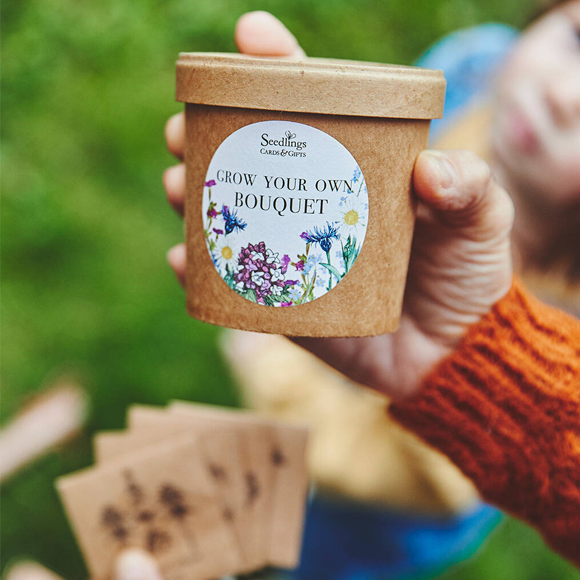 A sweet gift, this grow your own bouquet kit is the perfect activity that you and your flower girls can participate in after the big day. What's better is you can then watch them bloom year after year.
15. Personalized Will You Be My Flower Girl Balloon £22.99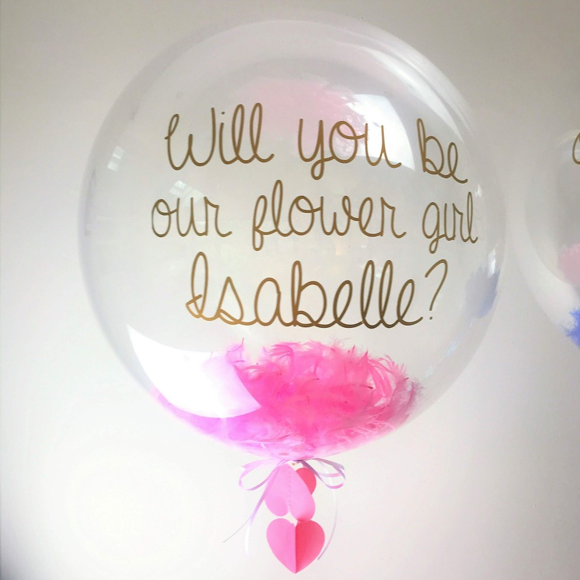 Can you imagine the look on her face when she opens up the box and one of these personalized feather-filled balloons floats out? Even better, get her parents to film the big moment if you can't be there yourself.
16. Will You Be My Flower Girl? Confetti Pop £2.75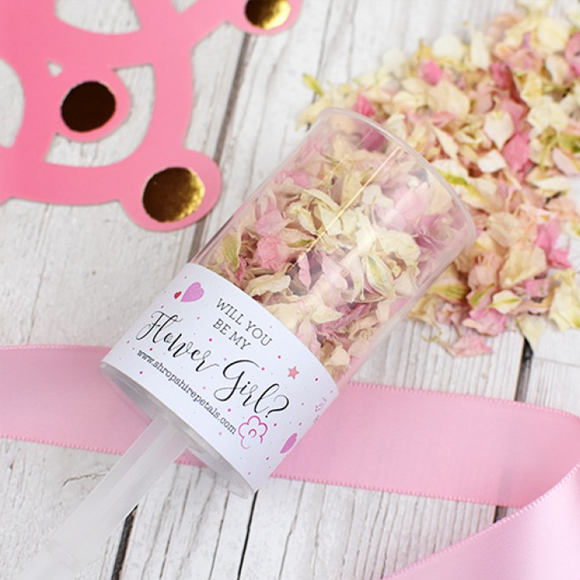 If you have a few flower girls in your wedding, to keep costs down choose a gift that is on the smaller side, but still just as sweet. This adorable confetti pop can be let off when you ask them, or they may choose to keep it until the big day.
17. My First Diamond Kiss Earrings $91.00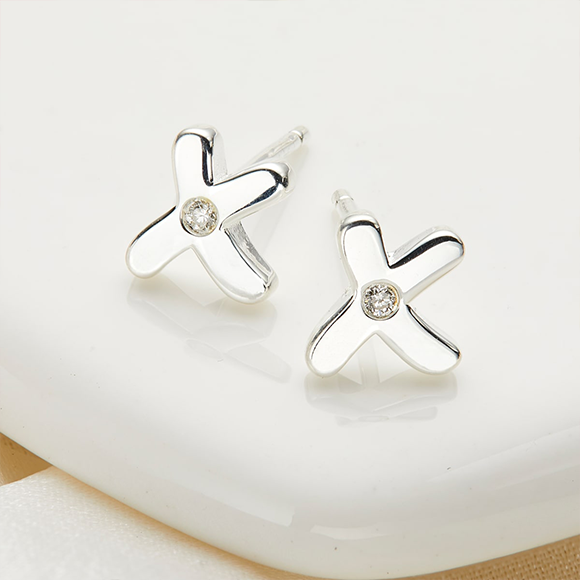 These beautiful kiss earrings are the perfect way to show your flower girl how much you love her. Adored at any age they are the perfect sparkly accompaniment to her flower girl outfit.
18. Personalized Flower Girl Biscuits £10.99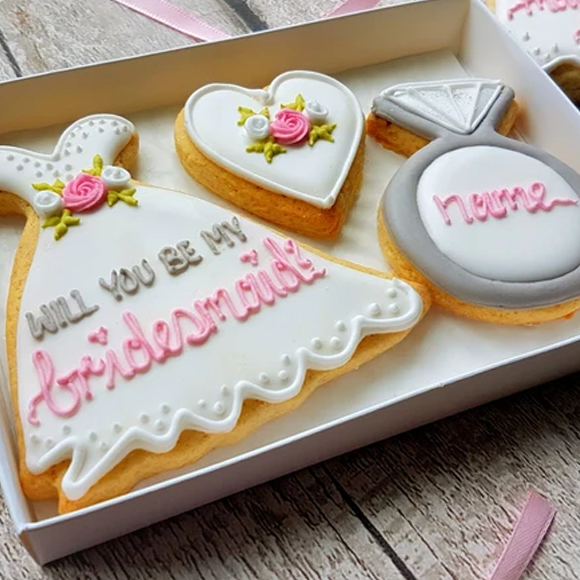 Sweet treats are always appreciated by little ones and these personalized biscuits are sweet to look at and eat. Perfect for gifting, bridesmaids, the maid of honor and your flower girls. Personalize with her name for a truly adorable gift.
19. Personalized Engraved Flower Girl Hanger $21.27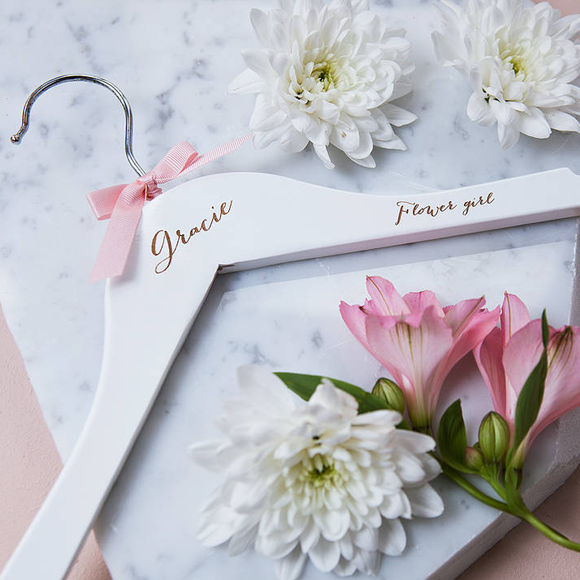 Make getting ready on the wedding morning even more special for your flower girl with her own personalized hanger.
20. Girls Digital Camera $30.02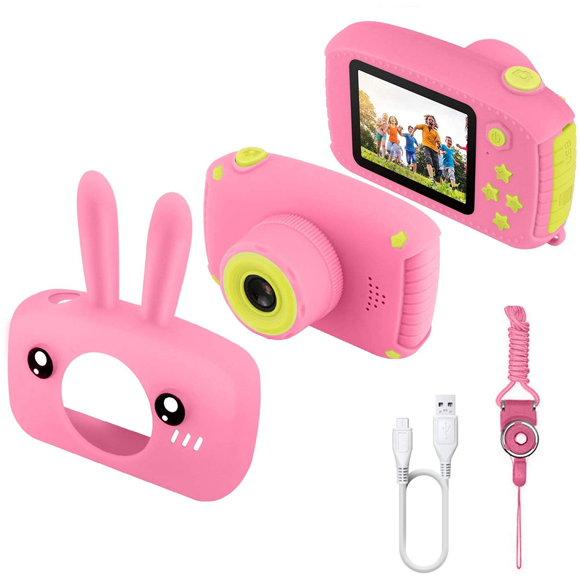 This adorable camera is perfect for keeping kids entertained throughout the big day and will be sure to provide joy to parents when they flick through the photos through the eye of a young flower girl. This camera also has built-in games and fun photo frames that will be sure to keep the kids preoccupied when the adults are trying to converse.
Flower girl frequently asked questions
What is a Flower Girl?
 A flower girl is usually one of the youngest members of the wedding and precedes the bride down the aisle. In today's day and age, it is common for a couple to include a flower girl in the wedding party to honour a little one that is close to the family.
How Old Should a Flower Girl Be?
Flower girls are typically between the ages of three and eight years old. You will want to bear in mind that this position will require them to walk down the aisle so you need to be confident that they can do this. If the flower girl you had in mind is younger, then fret not. It is common for younger flower girls to be accompanied by parents, older flower girls or even bridesmaids down the aisle. Flower girls are usually nieces, cousins or even the children of your best friend.
Is 13 Too Old for a Flower Girl?
The upper age limit for flower girls is usually around eight, but this can completely depend on how the child feels. It may be worth having a conversation with her as many 13-year-olds will be fine with being a bridesmaid and thankful you have thought to include them in your wedding. More mature girls may prefer to be a bridesmaid and not be grouped with the younger flower girls.
 How Many Flower Girls Can I Have?
You may be under the impression that you can only have one flower girl, however, this is completely untrue. There are no rules when it comes to your wedding day and you can choose to have as many flower girls as you want. The typical amount is between 1-3 and having a few may be an easier way to get the children involved without anyone feeling left out.
What is Flower Girl Etiquette?
After getting ready with your bridesmaids, allow the flower girl to come and join you and the bridesmaids to make her more comfortable and show her that her role is just as important as the others. You could even pay someone to do her hair to make her feel extra special.
Where Does the Flower Girl Stand?
When walking down the aisle is customary for the flower girl to then go and sit with family and the rest of the guests instead of standing with the bridal party.  It will also be less noticeable if she fidgets throughout the ceremony if she is sitting down. If she is slightly older she can stand with the bridesmaids throughout the ceremony.
When Does the Flower Girl Walk Down the Aisle?
If they are old enough to walk by themselves, flower girls should walk down the aisle after the bridal party and ahead of the bride. If they are too young to walk or are a little shy, they can be accompanied by a parent or bridesmaid to coax them down the aisle. They will be the last person down the aisle before the bride and will have the guests 'oohing' and 'ahhing' at how adorable they look.
Does the Flower Girl Match the Bride or Bridesmaids?
Traditionally the flower girl's dresses generally match that of the bride or bridesmaids. A popular option will be to have an ivory or white dress with some form of lace or embellishment to match the bride and then a sash in the same color as the bridesmaid's dresses.
Does the Flower Girl Give the Bride a Gift?
Whilst it is tradition to give the flower girl a small gift to say thank you for playing her part in your big day, many flower girls will also gift the bride something to say thank you in return for allowing her to take part. The go-to gift from a flower girl to the bride will be a pretty frame with a picture of the flower girl and bridesmaid together.
Need more inspiration on what to gift the flower girl? Make sure to check out Molly Brown London's Flower Girl Jewelry Gifts for the perfect way to say thank you.