Attending a wedding in the near future? You're probably wondering what you should gift the bride-to-be. Typically, guests purchase gifts for the couple that they can then use together in their future home, such as glassware, decorative objects and serving pieces for the many dinner parties they will soon be throwing as a married couple. However, this celebration has changed over the years and modern celebrations tend to be more focused on the bride-to-be and celebrating her upcoming marriage with a bridal shower where guests share their good wishes and more personal gifts to the bride.
So save the elaborate china settings and lean towards a more personal gift that is tailored to her.  Whether you're looking for a splurge-worthy gift or something small and meaningful, we've got you covered.
Gifts From Soon To Be Husband
Whilst the big day is a gift for both of you, if you want to go the extra mile and gift your bride-to-be something special then we've got you covered.
What is the best gift for a newly married wife?
1. The Adventure Challenge Couples Camera Set £134
2. Personalized Wedding 'I Do' Keepsake Dish £19
3. Personalized Milestone Wedding Map Print from £45
4. Custom Metallic Foil Wedding Vows Print £30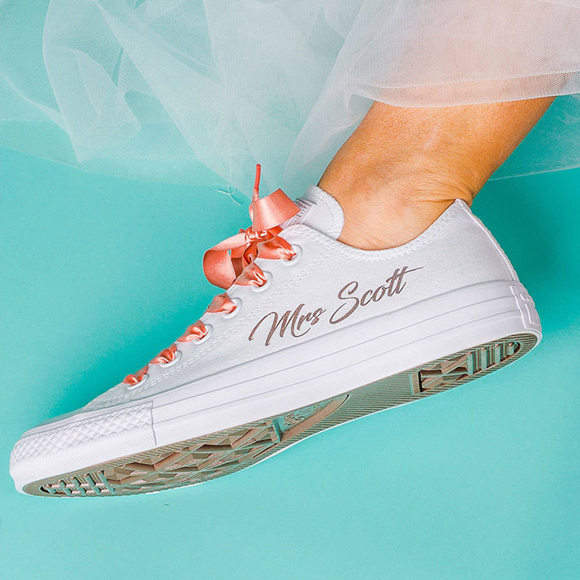 5. Personalized Wedding Trainers £120
6. Monogrammed Set of 2 Luggage Tags £75
How do I make my bride feel special on her wedding day?
If you're looking to be extra romantic on the big day and make your bride-to-be feel even more special here are a few tips.
1. Surprise your Bride with her favorite breakfast treats
She will be more than likely full of adrenaline, nerves and excitement on the morning of the wedding, so breakfast may not be on her mind. To settle her stomach and let you know that in a short while you will both be together, send her a breakfast basket of all her favorite breakfast treats.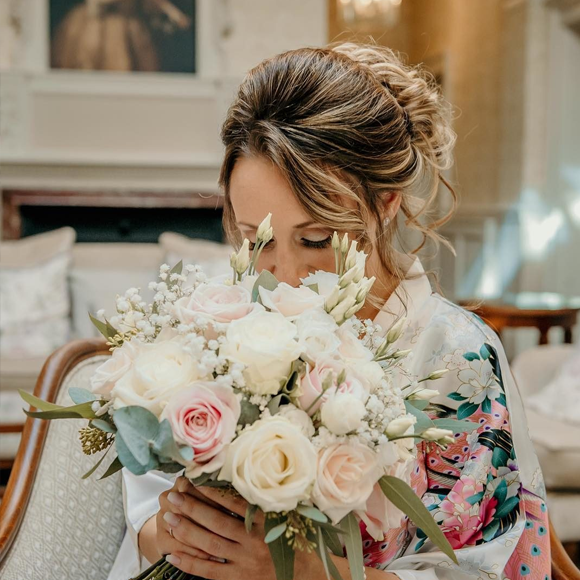 2. Have her favorite flowers delivered
Flowers are a memorable part of the day, whether it be part of your wedding decoration or the infamous bouquet. Before the day gets started send her a beautiful bouquet of all her favorite flowers reminding her how much you love her.

3. Record a special message for her to watch on the wedding day
Imagine her face when the maid of honor gets her to sit down to watch a special pre-recorded message by her soon-to-be husband on the morning of the wedding. Record a funny memory you have of her, all the reasons you love her or how you imagine how your shared married life will look. Make sure she watches it in the morning before any makeup is applied because you know there will be tears!

4. Jot down a sweet message somewhere she'd never expect
She may have picked out a beautiful pair of wedding shoes or a new clutch to keep by her throughout the afterparty. Jot down a sweet message either on the sole of the shoe or tuck it away inside her clutch so that she finds it when she is least expecting it.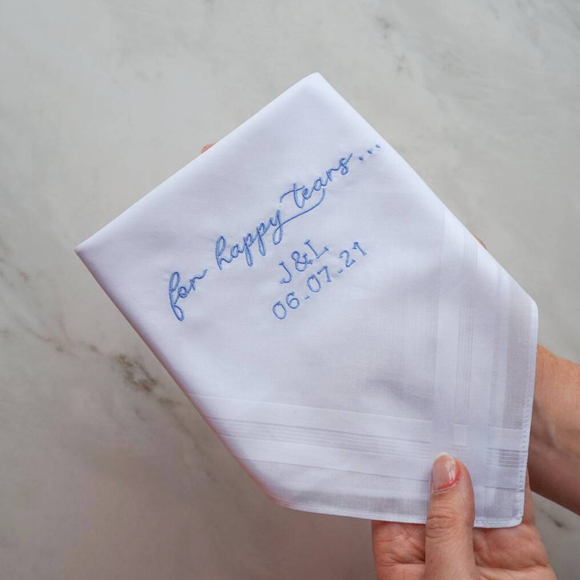 5. Gift her a personalized hanky
The day will most likely be filled with many happy tears shared by your friends, family and your new bride. Gift her a special personalized hanky embroidered with your wedding date as a special keepsake from a day she will never forget.
Budget for Wedding Gifts
What is an appropriate amount to spend on a wedding gift?
This one is a slightly more complicated one to answer as it depends on both the guest and the wedding couple. A good way of coming up with a figure is to look at the scope of the wedding, is it a big wedding or a smaller event? Try to give at least £100 to the couple when gifting cash. Generally, people gift between £100-200 per individual to help offset the cost of the wedding and give them a little extra leftover. If you can't afford to gift the newlyweds cash, then feel absolutely no pressure to do so and instead gift them perhaps something handmade that is more personal to the couple.
Is it better to give cash or check for a wedding gift?
There is no right or wrong answer as to whether you should give money as a wedding gift or not. Some may feel that it's less personal, however, others may feel that it can be used by the newlyweds to purchase something they actually really want instead of receiving surprise gifts on the big day.
One of the things you should consider when gifting money is to gift it with a card or note to the couple so that they know what the money is intended for. You should also consider whether you want to give cash or a check? Cash is easy to slip into an envelope, however, if it happens to go missing on the big day amongst larger gifts, there is no way to track its whereabouts.
A check on the other hand can be more secure since only the person it is addressed to can cash it in.
We hope this article has given you some much-needed inspiration on what to gift the bride and happy couple. If you're the bride looking to send some subtle hints to your guests or husband, don't forget to also think about gifting all the people who made your wedding day special. For little helpers on your big day take a look at our Flower Girl Gifts guide.