One of the most exciting parts of your wedding day is sharing the ceremony with your friends and family and the chances are your bridesmaids and flower girls will all fall into these categories. They will be your best friends, maybe cousins, sisters or nieces, but without a doubt they will play a very important part in your day. 
We talked to the Founder of Molly B London about her bridesmaids and why she thinks choosing a flower girl thank you gift is so important. 
"My elder sister was my maid of honour and I was also lucky enough to have two little girls as my flower girls. Without a doubt there is a big responsibility on their shoulders on the day, they have to negotiate the ceremony, getting the support balance just right. They are part of the ceremony from the very start to the end when the photographs are being taken and so throughout this time, they are on parade, watching out for you and supporting you whenever they can." 
Flower Girls are usually little children who add such an adorable touch to the day. "One of my flower girls held her bouquet upside down for the photographs and to this very day, I still smile at how funny and adorable she was, just doing her best for me."  
Flower girl thank you gifts 
As with all important occasions, it is important to thank the people who have supported us and it is so important to remember to thank your flower girls as well as any adult bridesmaids. 
A flower girl gift from the bride is that perfect occasion to give her something to treasure and remind her of her important contribution to your special day. Flower girl gift ideas can be a lovely reflection of your day, so for example choosing a flower girl gift that reflects the location, particularly if you are getting married abroad or even the wedding theme color of the wedding itself. 
Obviously we believe the perfect flower girl thank you gift is one that will hold her memories – a special piece of children's jewelry. This truly is the one gift that can be loved and treasured and will always remind her of the important part she played on your important day.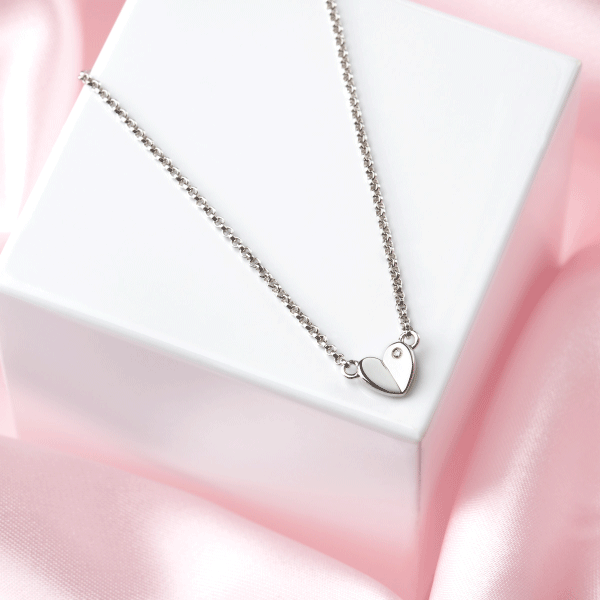 A flower girl necklace gift is a great flower girl gift idea, you could even give this to her before the wedding and she could wear it on the day. Choose a flower girl necklace that compliments her dress, such as the Promise Necklace which would complement the creams and whites of the dresses. The exclusive Honey Necklace would make a lovely flower girl necklace for a summer wedding, or how about a classic sterling silver heart necklace such as the Adored Heart Necklace which even features her first diamond?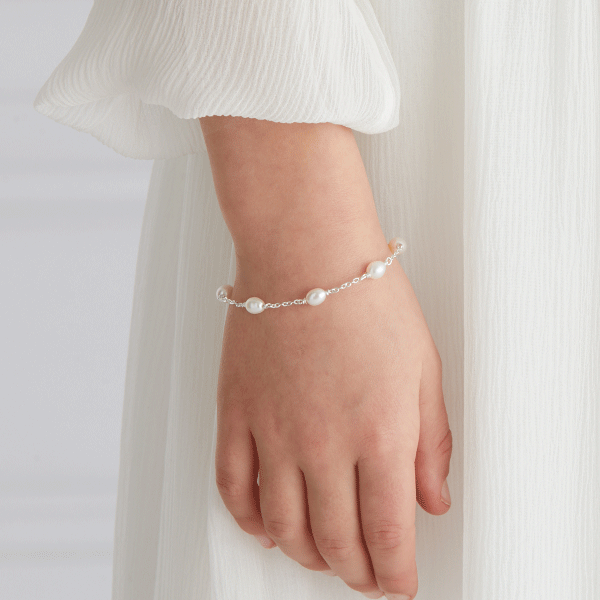 A flower girl bracelet is also a lovely idea for a gift and as all of the Molly B London Children's Bracelets are adjustable, she will be able to wear her flower girl thank you gift for many years to come. We love the Pearl Station Bracelet and this has been a runaway best seller since the brand launched in 2006. The Cherish Bracelet is very special and as it features a pretty designed cross, it is the perfect acknowledgement to the religious aspect of your wedding day. 
Another flower girl gift idea and perhaps one of the most popular, is to choose a personalized flower girl gift. Molly B London offers Free Engraving for you to add that all important personal touch to your flower girl thank you gift and has a wide range of personalized flower girl gifts for you to choose from.  
Flower girl frequently asked questions
What is a Flower Girl?
A flower girl is usually one of the youngest members of the wedding party and precedes the bride down the aisle. In today's day and age, it is common for a couple to include a flower girl in the wedding party to honour a little one that is close to the family.
How Old Should a Flower Girl Be?
Flower girls are typically between the ages of three and eight years old. You will want to bear in mind that this position will require them to walk down the aisle so you need to be confident that they can do this. If the flower girl you had in mind is younger, then fret not. It is common for younger flower girls to be accompanied by parents, older flower girls or even bridesmaids down the aisle. Flower girls are usually nieces, cousins or even the children of your best friend.
 How Many Flower Girls Can I Have?
You may be under the impression that you can only have one flower girl, however, this is completely untrue. There are no rules when it comes to your wedding day and you can choose to have as many flower girls as you want. The typical amount is between 1-3 and having a few may be an easier way to get the children involved without anyone feeling left out.
How to ask a girl to be a flower girl?
There are now so many special ways to ask a little girl to be your flower girl, from a photograph, to a confetti balloon, to a card or a little letter. 
Erica Illingworth our Founder and Managing Director loves this little rhyme for a card,  "I promise no ruffles and no puffy sleeves, will you be my Flower Girl please?"
What are the duties of a flower girl?
The child precedes the bride down the aisle and usually throws flower petals as they go. The flower girl is a centuries-old wedding tradition that has gradually changed over the years.
What color does a flower girl wear?
There is no hard rule that says your flower girl dress must match the color of your wedding dress. Some brides will opt for classic ivory flower girl dresses that match the color of their wedding dress, others will have their flower girl dresses match the color of their bridesmaids.
What is Flower Girl Etiquette?
We think one of the main roles for a flower girl is to set a happy tone! Flower girls are normally quite young and so they are a definite crowd pleaser with most people loving the adorable little touch they bring to the service and the day.
Where Does the Flower Girl Stand?
Normally, the flower girl will stand with the other bridesmaids during the service, but depending on her age it is also perfectly acceptable (and very common) for her to sit with her parents.
When Does the Flower Girl Walk Down the Aisle?
If they are old enough to walk by themselves, flower girls should walk down the aisle after the bridal party and ahead of the bride. If they are too young to walk or are a little shy, they can be accompanied by a parent or bridesmaid to coax them down the aisle. They will be the last person down the aisle before the bride and will have the guests 'oohing' and 'ahhing' at how adorable they look.
Does the Flower Girl Give the Bride a Gift?
Whilst it is tradition to give the flower girl a small gift to say thank you for playing her part in your big day, many flower girls will also gift the bride something to say thank you in return for allowing her to take part. The go-to gift from a flower girl to the bride will be a pretty frame with a picture of the flower girl and bridesmaid together.
Need more inspiration on what to gift the flower girl? Make sure to check out Molly B London's Flower Girl Jewelry Gifts for the perfect way to say thank you.