Ideas
Christening Party Ideas
You have the ceremony organised, and the invitations sent, but you're sure that you're missing something.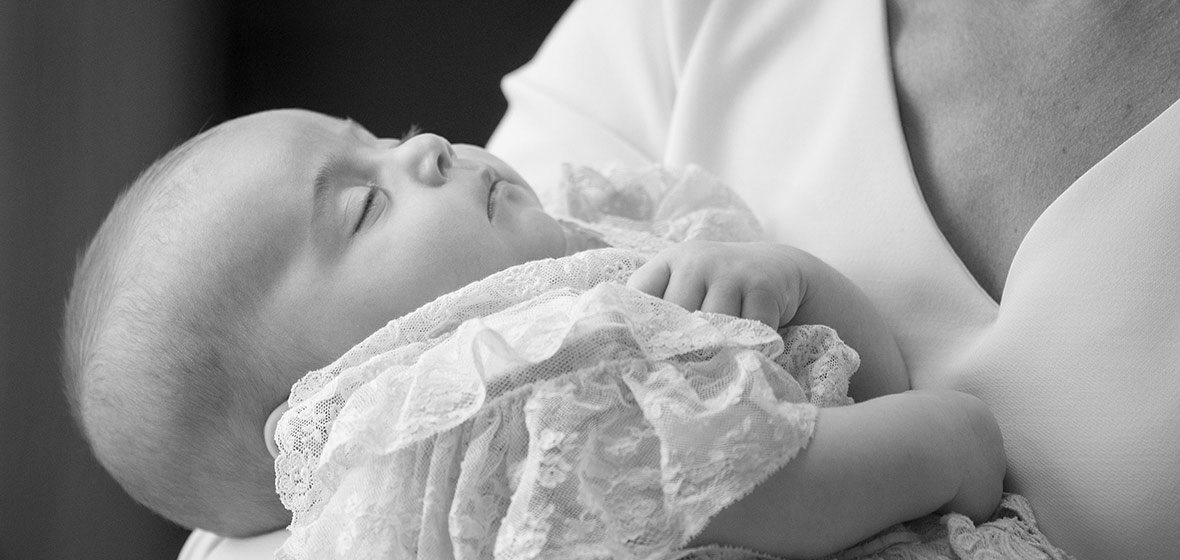 A Christening party is a perfect way to relax and bask in the love of your child's special day. Read on to discover what exactly a Christening party is, and how you can throw one to make the most out of your little one's first celebration.
What is a Christening Party?
Christening parties traditionally follow the set format of religious ceremonies of many faiths, but can also include a variety of modern and personal ways to mark the birth of your new child. While Christenings historically symbolise the act of a child being baptised and named, today, the event also marks the start of a beautiful journey of faith that your little one is beginning to embark upon. The ceremony itself is often a formal and religious affair, so it has become more popular to have a Christening party afterwards to celebrate the occasion in a more relaxed atmosphere.
Why Have a Christening Party?
As well as celebrating the beautiful act of a Christening, Christening parties are the perfect occasion to gather your family and friends and shower your little one with love to let them know just how special they are. It's a time to focus on your loved ones and create lasting memories that your child can cherish for years to come. Christening parties aren't just for religious families either. Perhaps a secular christening party, like a naming party, is more suitable for those who want to celebrate but aren't religious. Make your Christening party whatever you want it to be.
Who Throws the Christening party?
There's no official rule as to who gets the honour of throwing a christening party. While it does tend to fall upon the parents, Christening parties can be thrown by any willing guest. Whether it's a close friend, sister or godparent, the role of the host is completely up to you to decide on.
Venue
As with all aspects of planning, starting in advance is a must, but getting a head start on an idea for your venue is imperative.
If you're looking to hire out a location, you'll want to ensure that it's not booked out by someone else on your child's special day. Secure your venue well ahead of the party so you have one less thing to worry about, and can move onto other preparations. Make sure you have a rough idea of the number of guests you'll have in attendance when you book a venue. Prompt your guests to give their RSVP as soon as possible so you can plan accordingly.
If you're having your christening ceremony at a church, holding the party in the same location can be a great option. Most churches have function rooms that you can hire out, eliminating the stress of having to usher cars filled with loved ones from church to party location. This is definitely a convenient choice if you're expecting larger parties in attendance. Additional venue ideas for big guestlists are to hire a function room, community hall or even a restaurant as these places will likely already have the necessary equipment and means to accommodate greater numbers. Be sure to check that your venue is child-friendly as you'll no doubt be welcoming your little one's friends and cousins to the party too.
For those of you planning a party on a budget, why not open up your home to your guests? Invite your family and friends over for a lovely afternoon of celebration in the intimacy of your own home. If you're expecting a smaller number, this is the perfect way to ensure you can connect with everyone. Weather permitting, you can even opt for an outdoors celebration. Setting up a gazebo and outdoor furniture can help set a relaxed ambience for your christening party that adults and children alike will be sure to enjoy.
Food
With all the prep that goes into planning a christening party, it may be easiest to hire a caterer when it comes to food. The type of food you want to serve depends on how you want your party to function.
Having a sit-down meal can be more suited to a formal party, but setting up a buffet is a great way to allow guests to mingle and talk to each other. If you choose a buffet, finger food that guests can help themselves to is a perfect choice. Think sandwiches, quiche, crisps, fruit, canapes, crudités and dips and pastries for a wholesome spread.
For drinks, remember that you'll have a whole range of ages present, so you may want to pick something fun and non-alcoholic to satisfy all of your guests. Mixed punch drinks are easy to put together and can be served over crushed ice and garnished with fruit for a fancy take on a classic cocktail. Name it after the guest of honour to make them feel truly special.
You can't have a party without a cake, so be sure to choose a show stopper. A personalised cake makes a lovely surprise and can be made exactly to your preference. Christenings are literally a once-in-a-lifetime opportunity, so make sure your cake is exceptional, a centrepiece worth the celebration. Sonia, the blogger behind mummyconstant.com, shares our thoughts,
"My best tip would be to make sure you get a super and personalised cake made. It is a special memory."
Attire
Don't let a dress code cause you stress.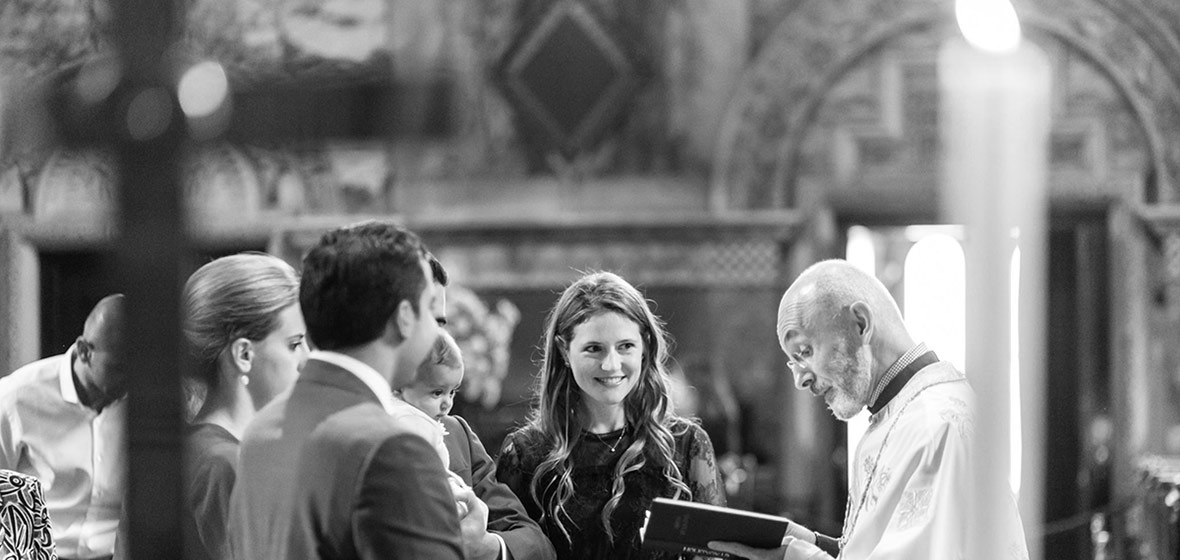 If you're planning the christening party to follow straight on from the christening, there probably won't be an opportunity for yourself and your guests to change into something more casual. Christening wear tends to be smart and follow standard church attire, so don't worry if you end up attending the party in your Sunday best. At least you'll look great for the photographs. If you do have time to change between the ceremony and the party, perhaps choose something a bit more comfortable that you can still feel well dressed in.
When it comes to your child, you may way to splurge on a new christening gown to commemorate their ceremonial day. Or perhaps a family heirloom of a gown that's been passed down from generation to generation. It can be a touching way to honour grandparents or godparents. While you may want to capture memories and photographs of your little one looking their best at the christening party, there's a likelihood that their gown may get grubby from sticky fingers and accidental tumbles. In this instance, you might want to pack a spare change of clothing for your child. Active babywear that they'll be comfy in or a gown that you don't mind getting dirty in is an excellent choice. Karen from wouldliketobeayummymummy.com agrees,
"Have fun dressing your little one. Not everyone puts traditional christening gowns on their babies these days. There are so many pretty dresses and gorgeous boys outfits available to suit all budgets, and that are much more comfortable for little ones too."
Decorations
If you're renting a space, it will probably start off as a totally blank canvas so you'll want to dress it for the occasion and create a welcoming setting.
Balloons, banners, streamers and garlands are all easy to display, and most importantly, are easy to remove so you don't have to worry about any permanent fixtures. Fairy lights are also a beautiful addition to have. Whether they're draped along the wall or hung across a doorway or window, they'll be sure to add a magical touch to your christening party. Function rooms and community halls can be quite drab, so having flower arrangements on the tables can breathe some much-needed life into your venue.
Set up a centre table for the cake and sweet treats, it will make an easy spot for guests to gather around and mingle. Remember that your party will be an opportunity for many of your guests to catch up. Extended family, from second cousins twice removed to in-laws and uncles, will probably be in attendance so allow them the space to speak to each other. Laying down a pretty tablecloth and hanging some bunting featuring the guest of honour's name will create a lovely little attraction.
It's likely that your guests will bring presents, so consider setting up a designated gifting area that they can leave them in. A little side table, a miniature teepee or even just a colourful rug lain on the floor can become a cosy home for any gifts your child receives.
If you're hosting your party at home, paper ornaments and candles are simple yet effective decorative pieces that you can use without worrying about the budget. DIY and craft items are also a fun way to get your child involved within the preparations before the big day. Bear in mind that your home might be welcoming a lot of guests, many of whom will be young, so if you are using any candles, keep them in hard to reach places that eager hands won't be able to reach. Or opt for LED candles for a safer alternative that you don't need to worry about.
Entertainment
A Christening party will be the perfect occasion for your guests to catch up and make memories.
Remember that there will be lots of younger attendees too, so ensure you have activities to keep both parties entertained. Even the simplest of things like having colouring pages and crayons on the tables will keep children occupied for times when the adults may want to have some time together. Don't be afraid to book an entertainer for a great way to get your younger guests involved and keep them in high spirits. As Paula, the blogger behind mummyvswork, suggests, having fun is the key to a stress-free event.
"It is going to be a great family get together so why not make it fun? You don't have to stick to the normal traditions. Why not have some family friendly magicians or bouncy castles etc. After all, happy children make life a little easier at the most stressful of times."
Hiring a professional photographer is the perfect way to memorialise the special day, but you can also leave disposable cameras on each table for your guests to help themselves to. Candid photographs give a home video feel and can create more personal and touching memories. Passing around a polaroid camera and setting up a pinboard for guests to attach their polaroid pictures to throughout the party can also make a great little addition. Or why not set up a little photo booth space where your friends and family can capture precious moments together?
Another great idea for getting adults involved is to set up space for guests to write down a special message for your child. Sarah, the blogger behind boorooandtiggertoo.com, shares her thoughts on this with us
"Similar to a guest book that you would find at a wedding, set up a table with a book and pens for guests to write their hopes for your little one's future. Sharing a little piece of wisdom, a blessing or a book that they must read when growing up."
For some, booking entertainment and hiring professional photographers may seem like a lot for a christening party. A great tip shared to us from blogger Natalie, crummymummy.co.uk, is to host a Christening party and first birthday party in one.
"The chances are you'd invite the same people to both anyway. That way you only have one set of invitations to send, one cake to produce, one party to host and one set of thank you's to send out afterwards."

Presents
For guests in attendance, you may need some inspiration for what presents to choose for the guest of honour.
While presents aren't a big deal and aren't essential, it can be a nice idea to have something to bring and give. We've made a list of gift ideas that are sure to go down a treat:
Jewellery. Giving a child the gift of their first piece of jewellery is a special moment. Choose something that they can treasure forever. Discover our range of Christening Jewellery for more ideas.
Clothing
A beautiful dress or elegant pair of shoes can make a wonderful present idea.
Gift vouchers
A great way to let them choose their own gift.
Books and toys
Gifts that children of all ages will enjoy.
Memory book
Sometimes the sentiment is the best gift of all. Give them a place to store all of their precious memories.
Favours
When the party's over and your guests are ready to leave, having little favours that your loved ones can take away with them is a lovely way for them to remember the event.
If you opted for a polaroid wall to entertain your guests, why not let them choose a picture to take home on their way out? Edibles like sweets, chocolate and biscuits can be wrapped up in pretty packages to be given out for children to enjoy. And don't forget the cake. Be sure to cut a slice for you guests to take home. Items like coasters, pins, candles and small trinkets can be personalised to feature the date of the christening for a lasting reminder of the special day.
A favour for after the party is to send out thank you cards to your guests who attended and gave gifts. Have your child "sign" them to add a finishing touch – a small but sweet way to show your appreciation.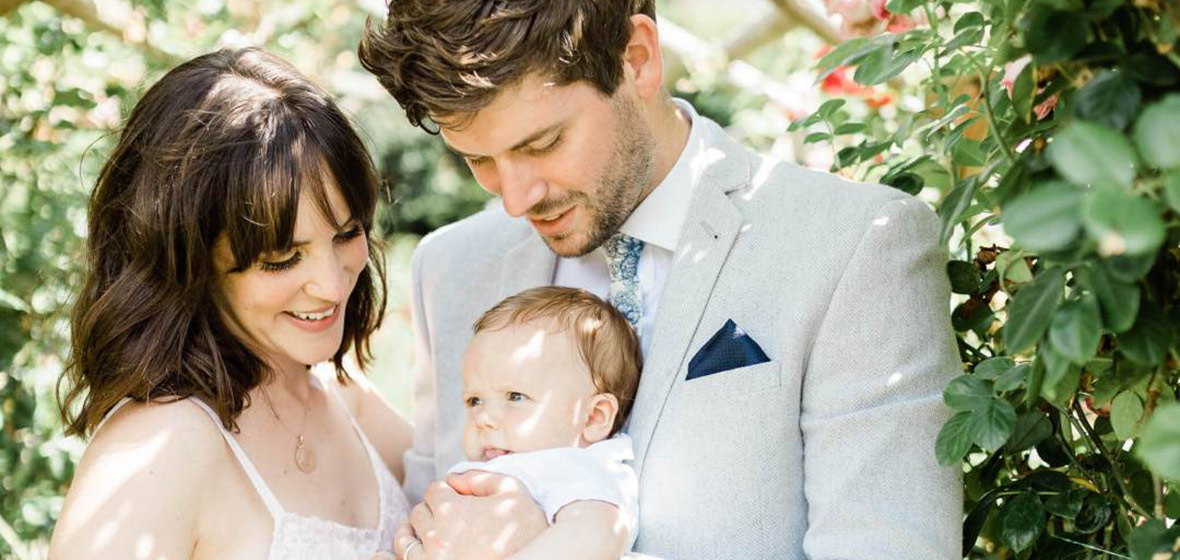 With all of the planning and preparation out of the way, the most important thing left to do is enjoy your little one's special day. Make lasting memories and shower your bundle of joy in love to show them just how treasured they are. Visit Molly Brown London to discover the full range of keepsake children's jewellery. All of our pieces are crafted from sterling silver in classic designs and contemporary styles. Show someone what they mean to you with Molly Brown jewellery today.