Cherish Collection
A beautifully classic yet modern symbol of her beliefs. The Cherish Cross collection is a timeless collection of religious jewellery for children so they can show their love for their faith in an elegant and sophisticated fashion.
Each piece is made with 925 sterling silver or gold vermeil for greater choice for every type of buyer and budget. Our sterling silver is also free of lead, nickel and cadmium, making it completely safe for children of all ages.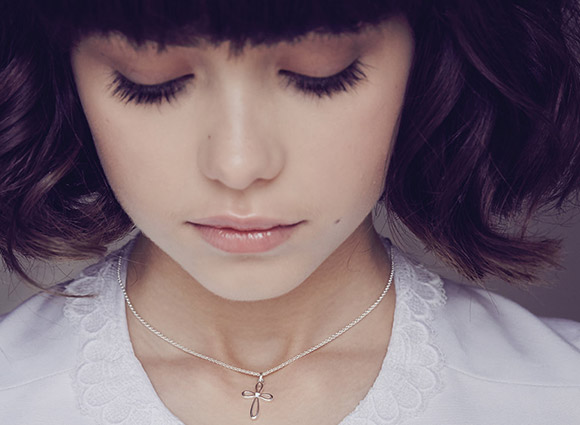 Discover Our Diamond Cross Necklace
For a sophisticated and idyllic statement to show her commitment to her faith.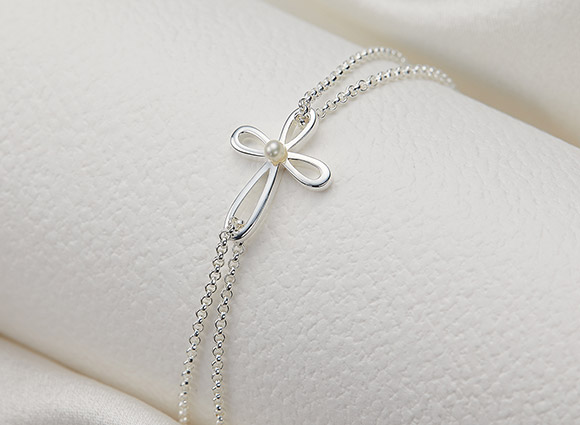 Buy Her A Pearl Cross Bracelet
Exclusive pearl detailed designs to celebrate her faithful devotion.
Our Collection of Cherish Jewellery
Our collection features an array of delicate designs that take a modern twist on a traditional symbol for a subtle nod to her beliefs.
For example, these Cherish Pearl Cross Earrings are a pure and beautiful token of her faith. Featuring a freshwater pearl adorning a delicate cross outline, which can be worn to add meaning to any outfit on this important day. Gift these on a special occasion such as her Holy Communion or for her Confirmation jewellery.
Shop Cherish Pearl Cross Earrings
Alternatively, this Gold Vermeil Cherish Signature Cross Bracelet is a subtle yet beautiful symbol of her faith. Both simple and sophisticated, it can be worn in any setting and cherished throughout her life given the unique adjustable fit feature. She can wear this daily or for all special and religious occasions.
Shop Gold Vermeil Cherish Signature Cross Bracelet
Give the Gift of Molly Brown London
As the leading brand for keepsake jewellery for children, we take care and effort to offer pieces with true sentiment and thoughtful design. That's why each piece in our collection is an elegant and sophisticated token of love made to be cherished forever. All of our jewellery has adjustable sizing to fit most ages and sizes.
Find the perfect gift by shopping the entire Molly Brown London jewellery collection online today. For any questions you may have on specific jewellery pieces, please feel free to get in touch.