Watch Over Me Collection
The Watch Over Me collection will bring endless comfort to her, knowing that her faith keeps her guarded daily. Each piece is a perfect token of your love to gift on her Christening, Holy Communion, or to mark a special milestone in her life. With a subtle nod to her faith in the design and an adjustable chain, she can wear it as she grows as a reminder of your love for her. Created in 925 sterling silver or 18ct gold vermeil, you are guaranteed to find a style she will cherish forever. Our sterling silver is also free of lead, nickel and cadmium, making it entirely safe for children of all ages.
Our Watch Over Me Jewellery Collection
Our beautiful collection of Watch Over Me jewellery features simple and yet sophisticated religious pendants each with a loving nod to her faith.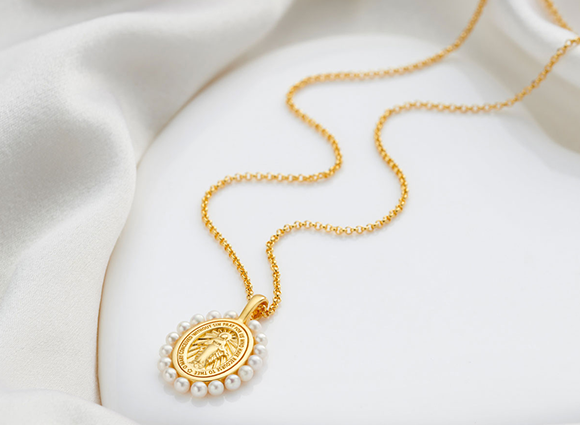 Such as this 18ct Gold Vermeil Miraculous Medal Necklace which showcases the Blessed Mother engraved into an 18ct gold pendant, surrounded by lustrous freshwater pearls. A perfect gift to suit all ages that can be worn throughout life or for special and religious occasions..
Madonna Pearl Pendant - A precious timeless token to show her devotion to her faith, designed to be cherished every day.
Shop Watch Over Me Pearl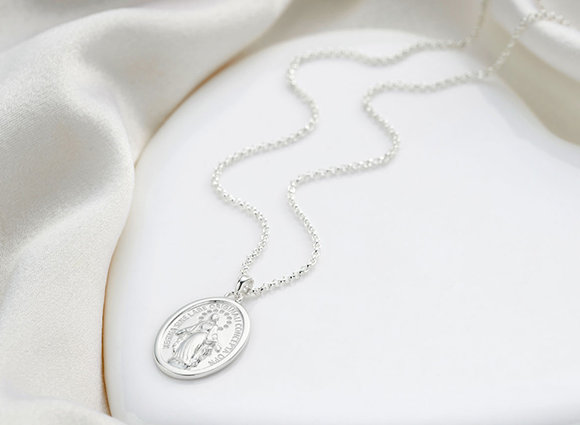 Alternatively, this Sterling Silver Miraculous Medal Necklace presents the Blessed Mother engraved into sterling silver, serving as a gentle reminder of her faith and that she will always be watched over and protected. Set on an adjustable chain, it can be worn and cherished throughout her life
Look at Our Silver and Gold Pendants - Find exclusively designed pendants to hover above her heart in sterling silver and 18ct gold vermeil.
Shop Watch Over Me
Keepsake Jewellery at its Very Best Molly Brown London is the most sought after children's jewellery brand with luxury keepsake jewellery that is both modern and classic. You can discover a definitive range of Christening, Holy Communion, baby and birthday gifts that will be cherished for years to come. To find the perfect gift, shop the entire Molly Brown jewellery collection online today. For any questions you may have on specific jewellery pieces, please feel free to get in touch.