Molly Brown London is proud and honoured to announce that we have won the King's Award for Enterprise for International Trade. The awards are the most prestigious business awards in the world and securing a coveted Kings Awards title is not easy. We're very proud and excited to share this news with our customers and would love to give you some insight into why we have been recognised with this honour. Read on to see how Molly Brown London is making its mark in international trade.
What is the King's Award for Enterprise?
The King's Award for Enterprise was previously known as The Queen's Award for Enterprise, and the new name reflects His Majesty The King's desire to continue the legacy of HM Queen Elizabeth II by recognising outstanding UK businesses. The Award programme, now in its 57th year, is the most prestigious business award in the United Kingdom, allowing recognised businesses to use the esteemed King's Award Emblem for five years.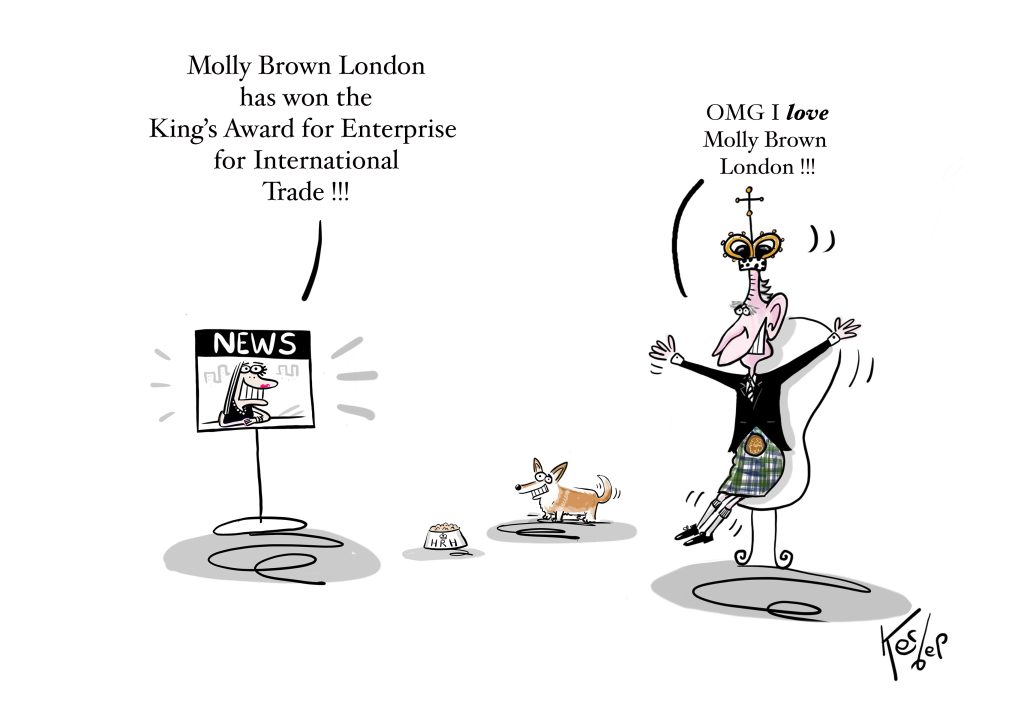 The King's Award is also a unique platform to showcase exciting and innovative UK businesses. Whether a small business with a great innovative product or service or a larger company running an impressive social mobility programme, the King's Awards are a prestigious way to recognise a business' contribution to enterprise. 
What are the Categories?
The King's Awards are awarded to businesses in one or more of four categories. These include International Trade, Innovation, Sustainable Development and Promoting Opportunity.
What is the King's Award for Enterprise in International Trade?
The Enterprise in International Trade award refers to a business that has achieved outstanding growth and commercial success in international trade for over 3 years and provided evidence of the benefits or positive outcomes from the company's actions or interventions.
What is Molly Brown London doing to verify these standards and why is the brand winning the award?
Announced on Friday 21 April 2023, Molly Brown London has been recognised for its excellence in international trade and is one of 78 organisations nationally to be awarded the prestigious King's Award for Enterprise International Trade. 
There are many factors that have led to Molly Brown London receiving this privileged award. Here are but a few ways Molly Brown London has showcased its success in international trade:
We have made significant revenue in overseas sales in the first year of entry and have shown year-on-year growth without dips for three consecutive years. 

At the brand's debut at the International Jewellery London show in 2007, the

Jelly Bean design

won the coveted Best New Product Award.

The brand has demonstrated strong corporate and social responsibility including reducing the volume of single-use plastics used across our supply chain and 100% of our plastics are reused and recycled by our team. We also continue to test bio-degrading options and ways of eliminating any plastic altogether. You can also read more about our

sustainability pledge

and our Butterfly Mark Accreditation from

Positive Luxury

.

All jewellery is designed using only precious metals, in 925 sterling silver, 9ct and 18ct gold. Each piece is exclusively produced using recycled materials and our manufacturer incorporates resource conservation and environmental protection into its economic and enterprise sustainable development strategy. This design excellence underpins Molly Brown London's international success.
What are Molly Brown London's plans for the future regarding international trade?
The essence of Molly Brown London has always been to promote longevity and global accessibility, that's why we continue to use the finest quality materials and offer free engraving services, free worldwide delivery and unrivalled attention to detail. 
As a children's jewellery brand, we believe it is imperative that we make our jewellery universally appealing, with the ability to capture as many individual styles and personalities as possible. We strive to continue our positive work and are determined to showcase the importance of international trade in future years. 
We are proud of all we have achieved and our hard work, resilience and dedication. To be recognised in such a prestigious way, showcases the exciting success of Molly Brown London globally. The award was announced on Friday 21st April 2023 in a special edition of The Gazette. 
You can shop our collection of award-winning children's jewellery, now with Royal Recognition here.