As with all the special things in life, take care of your Molly B jewelry. Read our care guides to keep your jewelry at its best
Molly B London uses a variety of precious metals, freshwater and cultured pearls, precious and coloured gemstones within the Collections. It is recommended that you store your jewelry in the pouch and box provided at purchase to reduce the risk of damage and air pollution affecting its appearance. If you are purchasing a gift to be worn in the future or are planning to store it for long periods of time, we recommend that you store your jewelry in a sealable, air-tight polybag with an anti-tarnish strip. Please follow the following advice for care of particular materials to ensure your jewelry remains in the beautiful condition you receive it in. Do not wear silver jewelry when swimming as chlorine can permanently damage the jewelry also, perfumes or lotions on the skin may cause tarnishing.
Molly Brown jewelry is hallmarked in the UK at the Assay Office, fulfilling the requirements established by the Law on Precious Metals. This is a guarantee to our customers of the purity and quality of the metals used in the collections.
For further information regarding hallmarking, please see here.
Silver care
Sterling Silver is a precious metal that is prone to natural tarnishing, this process is caused by oxygen and moisture coming into contact with the metal. This can be treated by polishing or buffing with a soft cloth from time to time, however silver jewelry that is worn regularly typically needs less care. When cleaning silver jewelry, it is a good idea to buy a cleaning cloth from a respected brand name and like gold vermeil, silver is susceptible to damage by chlorine.
Pearl care
As a natural product pearls need to be carefully looked after. Pearls can be cleaned using a soft lint-free cloth dampened with water, allowing the pearls to air-dry before putting away. Pearl care is vitally important and pearls should be stored separately from other pieces of jewelry as they can scratch easily. Store in the jewelry pouch provided with purchase as opposed to in plastic bags.
Gemstone care
Particular care should be taken not to use chemical or harsh cleaning substances. Ideally gemstones and gemstone jewelry can be cleaned with warm water and gently buffed using a soft lint free cloth. Try to ensure gemstones are not knocked when worn or stored to avoid scratching; we suggest storing each piece separately in the jewelry pouch provided with purchase.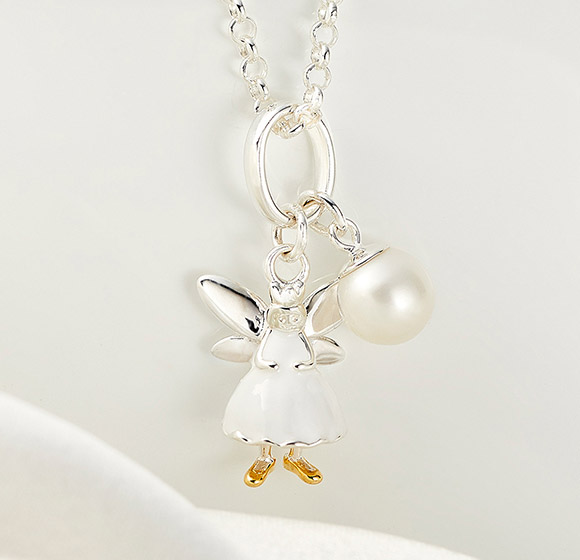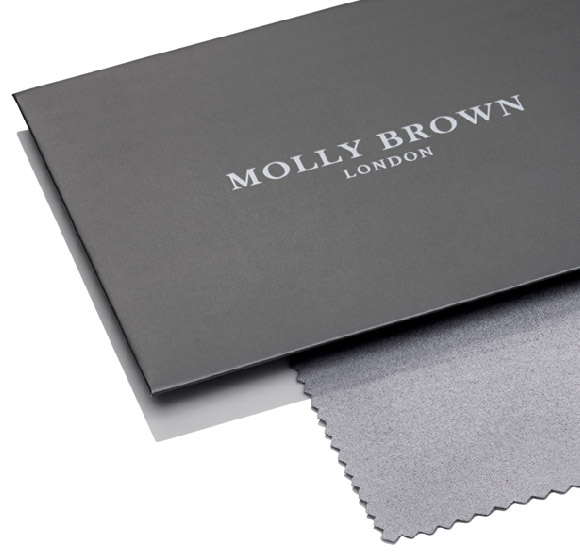 Enamel care
Molly B London uses cold enamelling for its enamel charms and enamel pendants. This enamel is very durable and can be cleaned using a soft cloth and warm water. Harsh chemicals and jewelry cleaning products should not be used with enamel jewelry as this can affect the colour of the enamel. Care should be taken to protect enamel from scratching or chipping and therefore enamel jewelry should be stored carefully in the silk pouch provided with purchase.
Diamond care
Take care when wearing or storing diamond jewelry together, to avoid scratching to the surface of diamonds. We suggest storing each piece separately in the jewelry pouches provided with purchase. Try to handle your diamonds sparingly so as to avoid the oil from your skin altering its appearance and clean regularly using warm, soapy water and a soft toothbrush should the diamonds start to look dull. Always rinse properly after cleaning.
18ct gold vermeil care
18ct gold vermeil jewelry is a 2 micron layer of gold over hallmarked sterling silver and will fade over time. Always remove gold vermeil jewelry before swimming as chlorine can permanently damage gold vermeil jewelry and do not use silver cleaner on your gold vermeil jewelry. Clean with a soft polishing cloth and store in an airtight bag to prevent tarnishing.