Molly Brown London takes children's jewellery safety seriously.
Molly Brown London follows a strict safety procedure with every jewellery design to ensure every item of jewellery is made to the highest safety standards. From using the highest quality materials to advanced safety testing. Find out why Molly Brown London are the UK's leading children's brand.
How do we ensure every item of Molly Brown London children's jewellery meets our strict safety criteria?
Molly Brown London knows how important it is to keep our children safe, that's why we follow a strict safety procedure throughout every stage of our jewellery manufacturing process. All of our Molly Brown London jewellery has undergone strict testing to guarantee that it meets the requirements set by CSPIA (Consumer Product Safety Improvement Act) and ASTM F 2923-11 (Standard Specification for Consumer Product Safety for Children's Jewellery).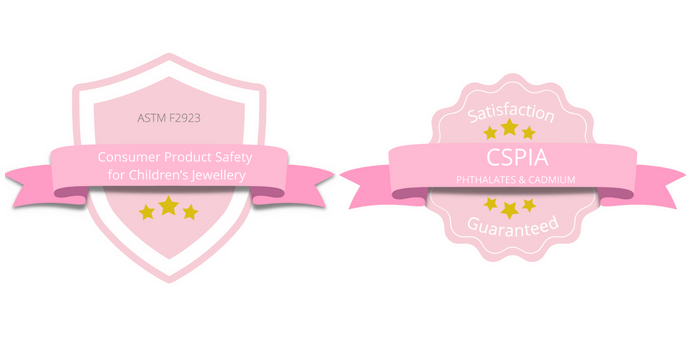 We have also implemented an additional testing process known as Newton's Break Test. This means that if enough pressure is applied to any of our jewellery designs, the jewellery will break. This is an important safety feature for all children's jewellery.
Jewellery safety for children under the age of three
Our beautiful keepsake jewellery is very popular for christening and newborn baby gifts. We recommend children under the age of 3 years of age be supervised at all times whilst wearing Molly Brown London jewellery. This is because small jewellery may present a choking hazard.
Never leave a child under the age of three unattended while wearing jewellery.
For their comfort and safety we recommend removing all jewellery before napping or bedtime.
We recommend that your child only wears our children's earrings after the initial healing/period has passed after piercing.
Molly Brown London used the highest quality materials to ensure products are sustainable and safe for sensitive skin.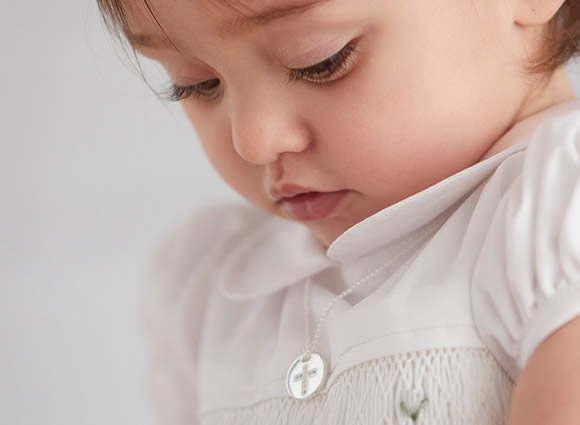 What materials do Molly Brown London use?
925 Sterling Silver
All Molly Brown jewellery is made with 925 sterling silver which is a popular and affordable choice for most children's jewellery. Sterling silver is naturally hypoallergenic and suitable for those with sensitive skin types, our sterling silver is also free of Lead, Nickel, and Cadmium which makes it completely safe for children of all ages. Our baby bangles are rhodium plated, which is a precious metal in the platinum family and enhances the appearance and durability of your baby bangle whilst also making the sterling silver more resistant from tarnishing.
18ct Gold Vermeil
Our gold plated pieces are plated with a 2 microns layer of 18ct yellow gold over 925 sterling silver. Like 925 sterling silver, this material is also hypoallergenic, safe for children and features the sterling silver hallmark. Our gold vermeil jewellery is perfect for those who love the tone of gold and its luxury feel, whilst still being a more affordable option compared to solid gold. Our gold vermeil jewelry is safe for sensitive ears and free of Lead, Nickel, and Cadmium.
Gemstones, Pearls & Diamonds
A beautiful accent to any piece of jewellery is a sparkling diamond or freshwater pearl and you will see many of these featured within Molly Brown London's jewellery collections.
Our most coveted children's jewellery collections are the 'My First Diamond' and 'My First Pearl' as giving a most loved child their first pearl or diamond is a special moment to be treasured in any girl's life. Molly Brown London uses only genuine diamonds ranging in size from 1mm-3mm and is the only children's jewellery brand to feature this size diamond in it's collections with many other brands only opting for Swarovski crystals, or cubic zirconias. The gemstones in the collections are genuine semi-precious or precious gemstones, which are a natural product and as each stone is unique, they may feature small inclusions and possibly colour variation.