Holy Communion is a momentous occasion for any young girl about to commit to her faith. A day to celebrate how wonderful and special she is and also introduce her to a family tradition that she will then pass down to her own daughters one day.
Most families will choose to throw a Holy Communion party and what better way to celebrate her than with those that she loves dearest around her. As soon as you have your local church's Holy Communion start date, it is good to get planning as early as possible. You'll want to give the distant family plenty of time and notice so that they are able to attend on this special day.
Think about where you want your celebrations to be held, a local event space? Be aware that these places may get filled up quickly. If you want to hold a smaller gathering and have the space, why not think about doing it in the comfort of your own home.
We've put together this helpful guide on how to celebrate her first Holy Communion that covers all basis, from communion decoration ideas to perfect holy communion dresses and even communion cake ideas.
10 Things to Consider When Throwing A Holy Communion Party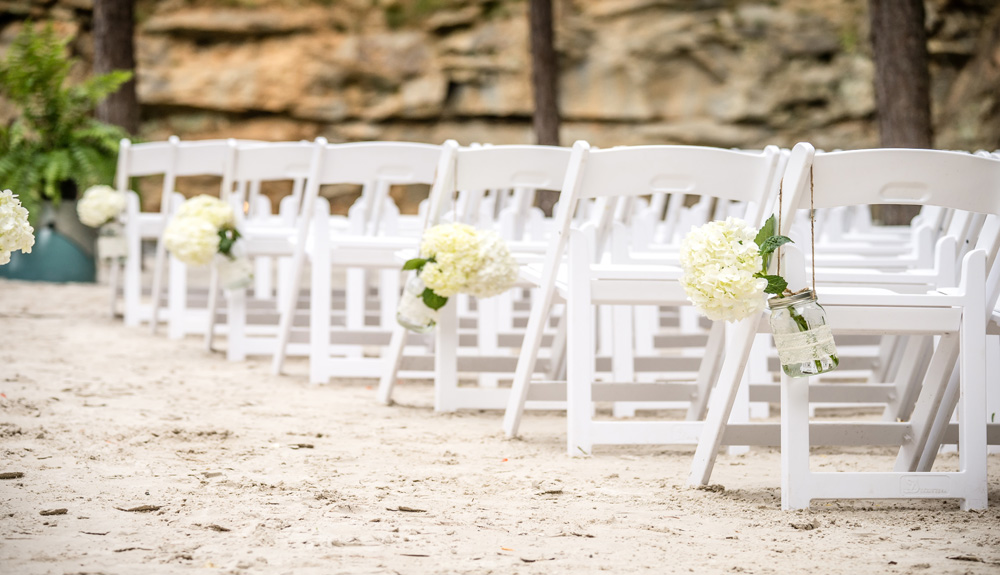 1. How many guests should I invite to my Holy Communion?
You may be limited to how many people can come to the actual church ceremony so you may want to consider how many people can your event space hold? You should consider a space where the children can let loose and parents can relax. If you're holding it at home, you may want a more intimate family gathering.
2. Where should you hold your Holy Communion Party?
If you are thinking of inviting a lot of people you could hold your party at a local event space like a hall. However, make sure you call and book this in advance as event spaces can get booked up quickly, especially if your Holy Communion Party is on a weekend. If you don't mind the cleaning up and are looking to save money, you may want to consider holding the party at your house. This could be a much smaller and more intimate gathering with just family.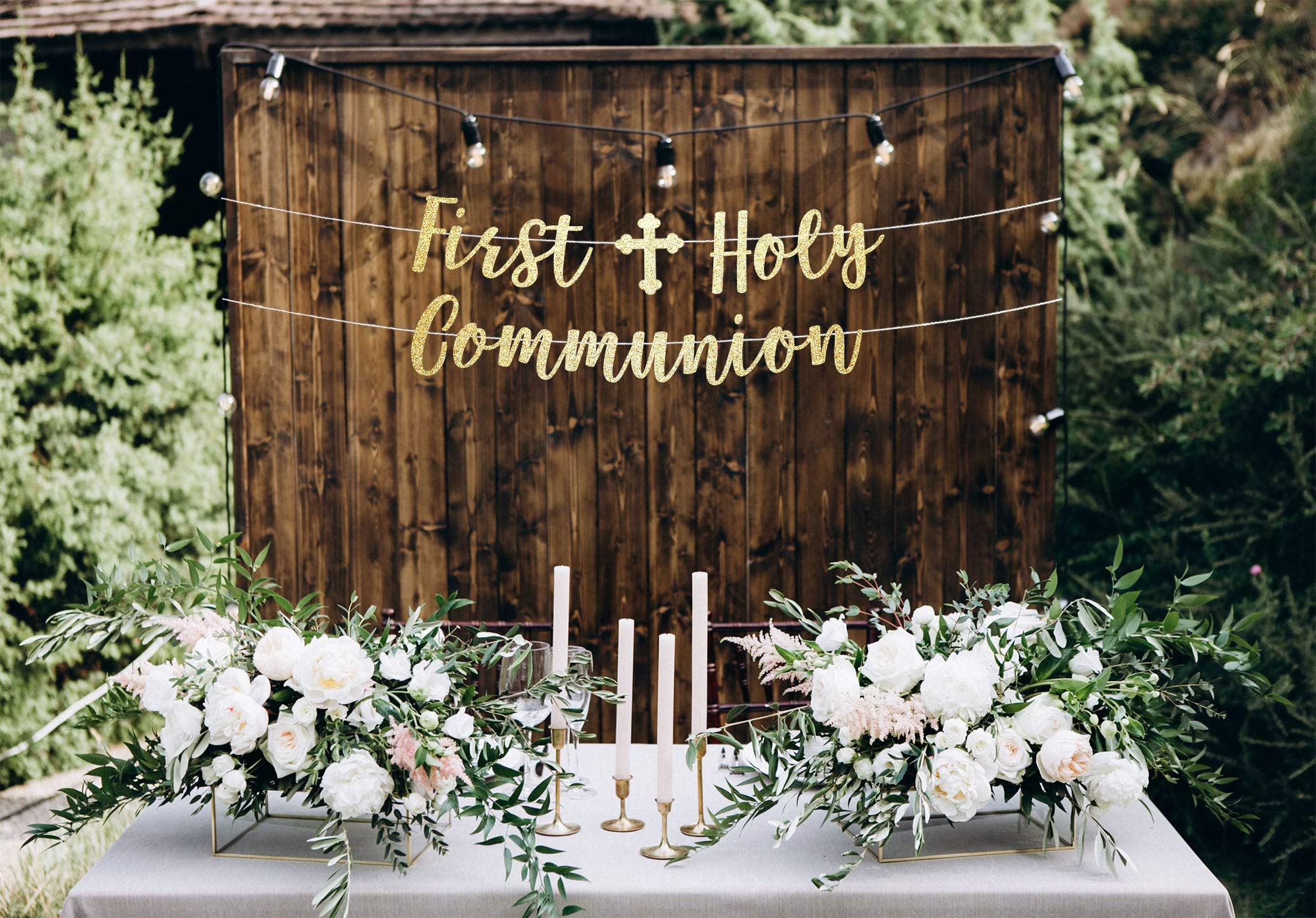 3. What decorations should be used?
Whether you're decorating your back garden or event space, decorations can really brighten up any area and make the event feel more fun. Think about garlands, flowers and balloons to fill up any large spaces. Think about how would you like the tables to be decorated? Will you have a theme?
4. Invitations?
To avoid disappointment for those that may not be able to make it, make sure you get these out early so that it gives everyone plenty of notice. You can purchase ready-made Holy Communion invitations with gold foiling and embossing or if you're the crafty type why not head down to your local Hobby Craft and get the kids involved. A little bit of glitter and glue goes a long way and will be something the grandparents can treasure.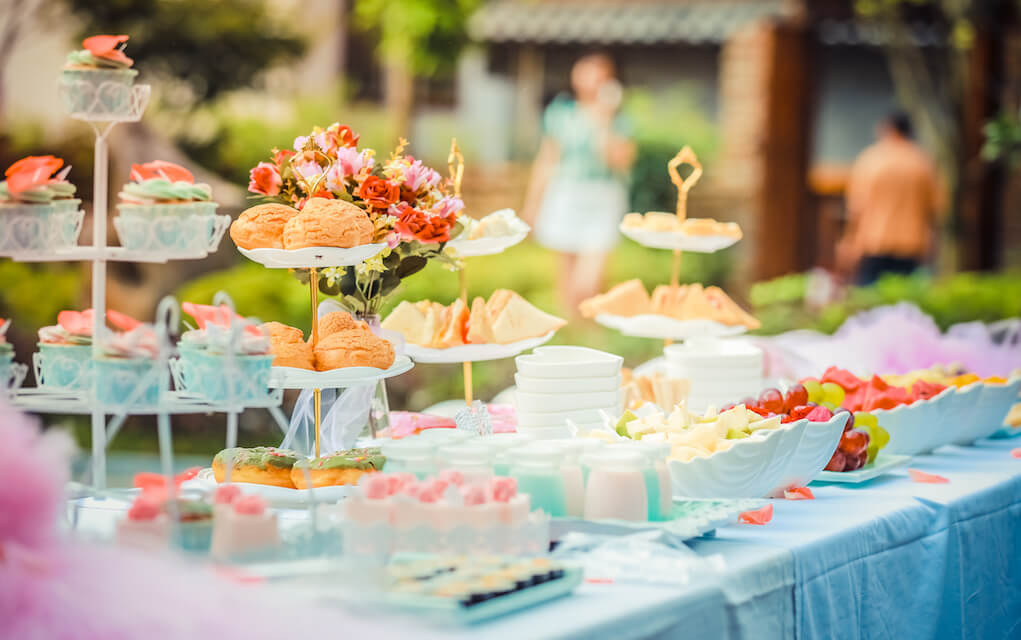 5. What do you serve at a first communion party?
After the ceremony, it's time to think about food. Will you be catering the party yourself? Perhaps cooking up a storm in the kitchen the night before with finger sandwiches and teacakes in the dozens piled up high. Or maybe you would like to hire a catering company to take care of this for you?  Will it be a buffet-style lunch or will you be having a sit-down meal? It is common to have a special Holy Communion cake that will become the ultimate centrepiece for any space, again these things will need to be planned and ordered well in advance. Holy Communion cupcakes would go down a storm with younger attendees and could be something that you bake with your own children the night before.
6. Entertainment?
As this day is all about the children it makes sense to hire some entertainment that will keep them out of trouble for a couple of hours. If the weather is nice, think about large outdoor games such as quoits or skittles that will keep them entertained without ruining their clothes. A bouncy castle is always a winner at any children's event or thinks about hiring a magician who specialises in children's magic.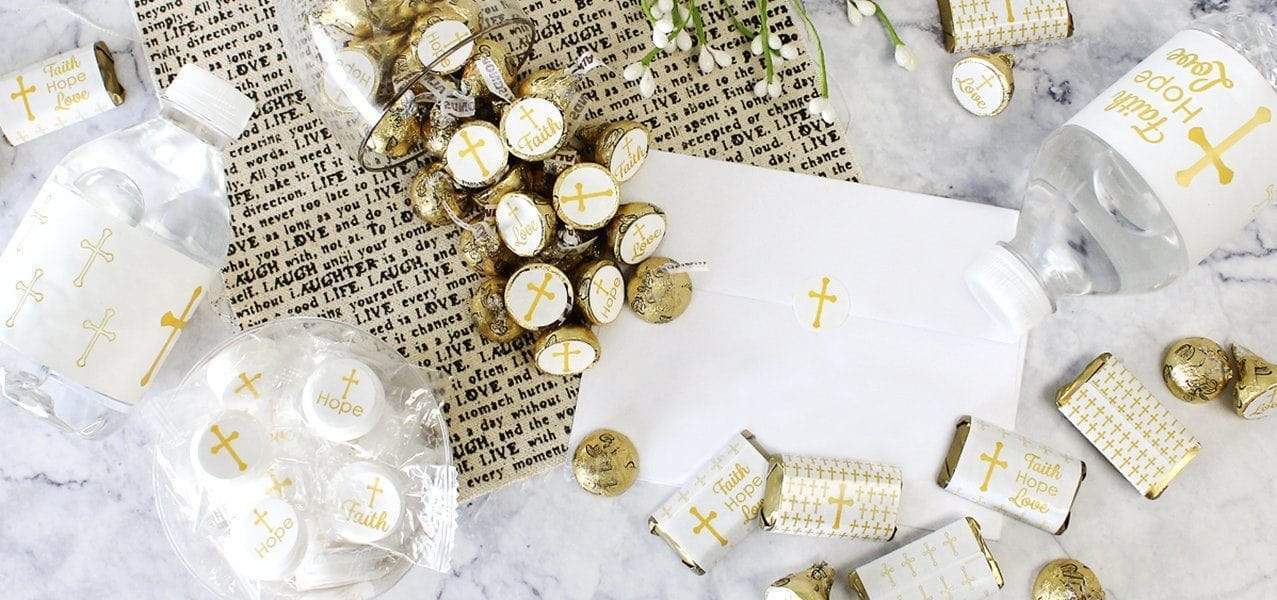 7. Should you hire a photographer?
You will be sure to want to have a keepsake from this special day and although everyone has a smartphone, why not think about hiring a professional photographer to capture this momentous occasion. This will also be more respectful in the church and can then join the after-party and capture the guests enjoying themselves throughout the day. Some people prefer to have a First Communion portrait shoot for a more studio-like image showcasing her in her Holy Communion dress that they can then give to guests at a token of the day. Another idea would be to have disposable cameras on the tables at your communion party. This way you will capture the day through the eyes of your guests and will be sure to end up with some great memories.
8. Should you provide party favours?
Make sure that everyone invited has a little piece of the day to take away with them. Party favours can range from sweet treats for younger attendees to something a little more long-lasting such as candles, religious cross keyrings or even dainty wristwear are popular choices.
9. What should she wear to her Holy Communion Party?
Throughout the official church ceremony, she will wear her beautiful white dress and whilst this is what is traditionally worn on her Holy Communion, once she gets to the party she may want to change into something a bit more comfortable. As a parent, you may also want to keep her dress in pristine condition and not want to risk getting it dirty or ruined throughout the party. It would be wise to have a second outfit for her to change into so that she can enjoy time with her friends and family without having to worry about her communion dress. This could be in the form of another, more casual dress so that she still feels like a princess on her big day.
10. What to do once the Holy Communion party has finished?
Other than the obvious cleanup mission that will take place after the party has finished, you may want to take a moment with your child to reflect on the day. Talk to her about what she liked best throughout the day and if she has any potential questions about her faith. Perhaps you could together write about her big day so that she can reminisce about it in the future. A good activity to do with her a couple of days after the big day would be to practice gratitude and write out thank you cards to everyone that attended the ceremony and party.
Whatever you decide to do, remember that it is a special day for you too so having fun is the key to having a successful First Holy Communion.
Molly Brown London has a range of beautiful First Holy Communion jewelry gift ideas that are perfect for her on this momentous occasion. From personalized pieces to classic pearls and crosses. If you're looking for keepsake gifts for kids, tweens and teens that mark other special moments shared with family, check out the range of children's jewelry that she will treasure forever.