<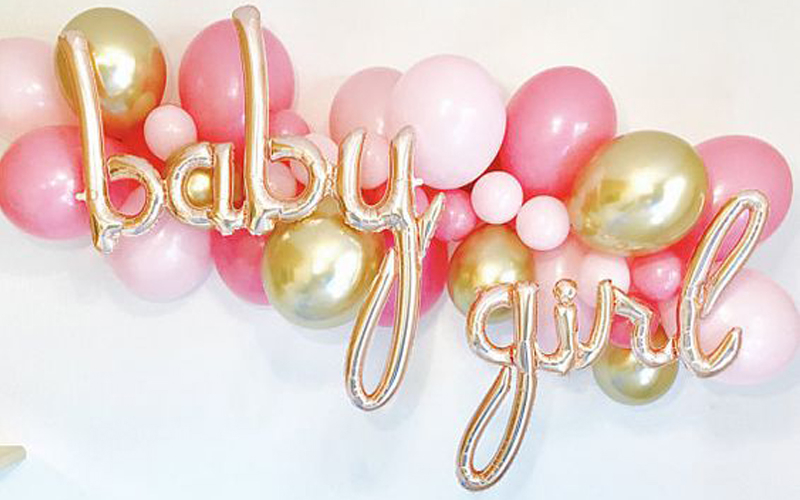 What is a baby shower?
Originally an American tradition, baby showers are a recent phenomenon held to welcome new life and celebrate the upcoming birth of a baby. Family and friends gather together and take part in a gift-giving party to shower the parents with love and support.
Why have a baby shower?
Here at Molly Brown London, we believe that baby showers are the perfect way to celebrate the arrival of new life. With the stress and pressure that the birth brings, baby showers can be a fun and exciting way to show love and support to the mum-to-be in anticipation of her special day. Baby showers are also the perfect way to get everything in order before the birth. Guests generally tend to gift lots of baby essentials so that the mum-to-be has one less thing to worry about. And perhaps the most important function of a baby shower is to mentally prepare the parents for the arrival of someone who will change their lives forever.
Who hosts a baby shower?
The job tends to fall upon the nearest and dearest to the future mother, whether that be friends, family, neighbours or even colleagues. The general consensus is anyone but the mother, as the aim of the shower is to make her feel as relaxed and stress-free as possible. If the prestigious task of hosting happens to fall upon you, keep on reading to discover our best tips and ideas for throwing the perfect baby shower.
When to have a baby shower?
Baby showers are usually thrown in the last trimester of a pregnancy. While the shower itself often tends to be held within the last four to eight weeks before the birth, planning can begin anytime and we recommend starting as soon as possible. The more time you have, the better.
Where to have a baby shower?
There's no guideline as to where's best to host a baby shower, it's purely down to preference. While some baby showers are held at the mum-to-be's home out of convenience and ease for them, you may not want to invade her personal space so close to her due date. A friend or family member's home is always a safe and budget friendly choice, especially as you will have full control over the decorations and proceedings. If you'd like to reduce the amount of preparations needed, renting out a venue like the mum-to-be's favourite restaurant or arranging a spa day are excellent alternatives for hosting the special event.
Baby Shower Theme Ideas
Choosing the theme for a baby shower is the first step on the way to decorating your chosen venue. An easy place to start is to think of what style the mum-to-be might enjoy. Is she a lover of all things floral? Or would a food-centric party be more fitting? We've made a list of our favourite baby shower theme ideas that will be guaranteed to set the tone for your party.
Colour Theme
An easy theme to stick to that will always ensure beautiful results is a colour theme. By matching the cake to the decorations, and the invitations to the food, you'll create an effortless sense of colour cohesion that your guests won't be able to resist catching on camera. Pastel colours are perfect as they create a sense of softness and uplifting joy that is a necessity for all baby showers.
Teddy Bear's Picnic
The baby celebrations can never start too early, so why not take this opportunity to bring this popular children's story to life? Recreate this beloved theme with cosy decor, plush cuddly toys and adorable finger food for a baby shower that will take your guests back to their childhood days. Make it a true teddy bear's picnic by requesting that your guests bring their favourite teddy bear with them as a plus one for an endearing touch.
Princess Theme
Every little girl's dream is to have a princess themed party, well not every girl's but this cliché does exist, so a princess party could be a great way to celebrate the arrival of a new baby girl. Tiaras, gold detailing and castle-shaped cakes will have your guests feeling like they've stepped into the pages of a Disney tale.
Unicorn Theme
Sprinkle some colour for a stunning unicorn themed baby shower. Let your guests bask in the magic of unicorn power with multicoloured pastel hues on a white backdrop. Not only will this theme be entirely gorgeous, but it's hugely popular at the moment.
Afternoon Tea
A classic choice that will never let you down. Sarah from runjumpscrap explains why this theme is perfect for creating a wonderfully quaint baby shower.
"Get out the china teapot and all the cups and saucers for a lovely cuppa. Make sandwiches, cream teas and cakes. Use a cake-stand, it really looks so authentic. This made my last baby shower really special, and was lovely to have at home with friends and family."
Garden Party
If you're lucky enough to be graced with clear skies and sunny weather on the chosen date of the baby shower, make the most of it and opt for an outdoor garden party. Think beautiful canopies, balloons swaying in the breeze, string lights and stunning flower arrangements for a baby shower that she'll treasure forever.
Baby Shower Decoration Ideas
Once you've picked the theme, it's time to get started on the decorations. Whether you're on a budget and are in need of some great DIYs, or want to indulge in made-to-order custom centrepieces, there's no limit to how you decorate for the special day. Let your creative side run free, the end result will be as rewarding as it is show-stopping.
Balloons
A staple for celebration, balloons are a must for baby showers. We suggest against having loose balloons rolling around on the floor as they will undoubtedly pose a health and safety risk, and that's definitely not what you want. Instead, consider using helium balloons that float on weighted ribbons. Or if you want to add a really personal touch, invest in lettered helium balloons to spell out a special message to surprise the mum-to-be. Frame the entrance of your venue with an arch of balloons for a warm welcome that will ensure all of your guests know that they're in the right place.
Bunting
Easy to put together and with so many different styles, bunting is a foolproof way to fill empty spaces. Get crafty and make bunting to match your colour theme, or spell out a message to hang above the table or along any flat surfaces. Bunting doesn't have to be flat either. Make a 3D pom pom bunting for a colourful wool garland that will brighten up any room.
Tablecloths
Never underestimate the power of a tablecloth to transform the atmosphere in a room. A textured tablecloth draped over the front of a table can create a beautiful station for guests to gather round. Lay a runner down the centre of the table for an easy two-toned look that's simple but effective.
Banners
If you have the budget and want to project a special message to the mum-to-be, personalised banners will always provide a wow factor to impress your guests. We recommend hanging above your centre table for maximum impact. And your banner doesn't have to be made professionally either. Handmade pieces work just as well and can provide an excellent talking point.
Candles
Nothing sets the mood like the right lighting, so make sure to select a few key lighting pieces to brighten up the occasion. Tealight and votive candles placed in jars are beautifully simple but can be just the elegant addition you're looking to dress your baby shower with. If you're looking for a fuss-free way to light up the shower, consider LED candles to eliminate any concerns without compromising the radiance of candlelight.
Flower centrepieces
The birth of a baby is a beautiful celebration of life, so why not add a touch of nature to commemorate the event. Flora centrepieces are a sweet additional to have, and you can even match the colours of the blooms to your theme for a wonderfully put together style. If you know the name that the parents have chosen for their soon-to-be newborn, spelling out the baby's name in letter-shaped flower arrangements will be sure to show them how much they are already loved.
Baby Shower Cake Ideas
Possibly the most important centrepiece of the day, you definitely want to make sure you choose the right cake. Consider any possible allergies your guests might have, and double check that your order will be ready on time to avoid any disappointing setbacks. Most importantly, you want to ensure that the cake tastes as good as it looks.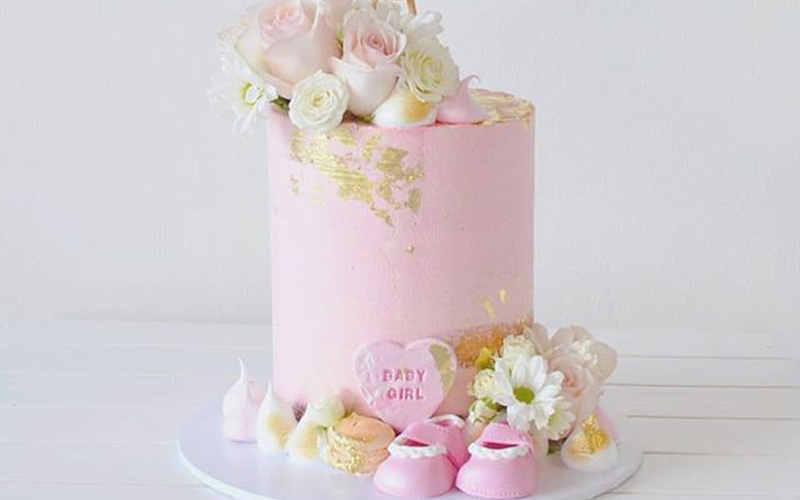 Character Cakes
An adorable option is to have a character cake for the baby shower. Storks, cartoon animals, baby accessories and children's toys and books are a lovely way to add a touch of youthful spirit to your party.
Flowers
Who says that flowers are just for decoration? Let an exquisitely decorated floral cake become the focal-point of your celebration. Colour coordinate it with your decorations for a spectacular display that you won't want to cut up and tuck into when the time comes.
Tiered Cakes
If you're catering for a large number of guests, you'll want to ensure that you have enough cake to go around. Tiered cakes will see that everyone can have their slice and eat it. Having multiple layers to a cake also means that you can have more than one flavour, so you'll be able to cater towards the needs of all if you have a fussy crowd to entertain.
Name Cakes
Again, if the parents have already settled on a name for their little one, incorporate it into the cake. It is their special occasion after all.
Macaron Stand
Break tradition and opt for something different with a macaron stand. These colourful tiers of sweetness make a great alternative to cake. Elegant and sophisticated, macarons look spectacular when stacked on a stand and decorated correctly. Not to mention they're easier to share with your guests.
Baby Shower Food and Drink Ideas
When it comes to food, you want to strike the perfect balance between delicious and convenient. Ask your guests to contribute a dish each, that way it's fair and you can spend less time worrying about satisfying everyone's dietary needs. If you wish to provide all of the food yourself, ordering pre-made dishes can save you hours in the kitchen. Don't worry too much about the quality of the food being Michelin star standard as your guests will be too preoccupied with having fun to care.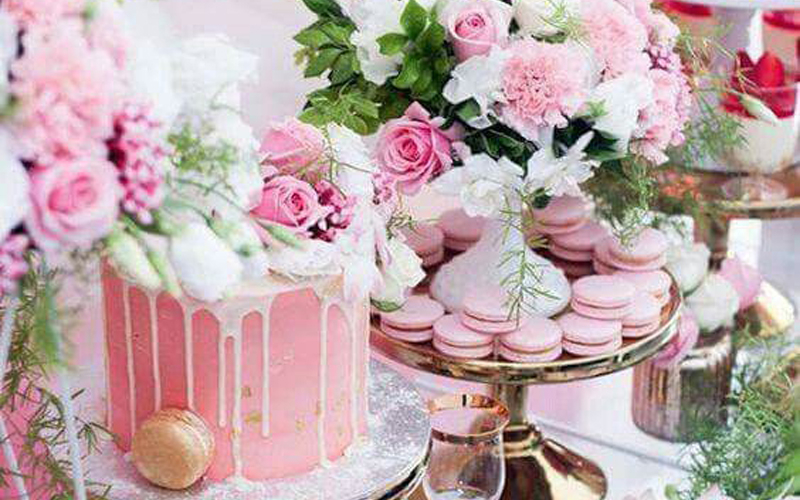 Buffet-style
Arrange your food in serving dishes, buffet-style for an easy serve-yourself system. This means that you won't need to wait on your guests and they can help themselves.
Finger Food
Finger food is always a winner for any occasion, so opt for sandwiches, crisps and dips or scones and jam if that's more your thing, mini quiches and pasta salads.
Cocktails and Mocktails
Wash down your finger food with some refreshing homemade cocktails, or mocktails for the mum-to-be. Stand in a glass drinks dispenser for extra aesthetic points, and your guests can help themselves.
Sweet Treats
Satisfy any sweet tooth your guests might have with ice-cream, cream cakes, candy floss and cookies. Even fruit can serve as a refreshing way to end the baby shower meal. They also make great snacks for if your guests get peckish later. If you're up for it, go the extra mile with baby-themed cake pops. These are impressive as they are tasty, and can be easily shared about.
Blogger Angela, from theinspirationedit, shares with us why baby themed food is a must.
"I've attended a few baby showers recently and the one thing I love is baby themed food ideas. My winning dish is always a fruit salad baby in a pushchair. It's always a big hit and everyone loves it."
Baby Shower Gifts
"Ask the pregnant friend if there's something she really needs or wants for her baby, to avoid buying her baby stuff that she already has enough of or doesn't need." - Petra, amumreviews
A critical part of the baby shower is the gifting. We suggest setting up a little corner or decorated area where guests can place their gifts on arrival to be opened at a later time. The mum-to-be might have already registered for gifts, as baby showers are the ideal time to gather the essentials. As Petra points out above, communicating with the parents to find out what they need is hugely important, so as to avoid spending money on things that they might already have. Clare from emmysmummy.com agrees,
"Ask if they have a gift list before buying bigger items as no one needs 3 sterilisers. It can be a great time to get a gift for the mum to be, as baby will get loads when he or she arrives. Treat mum to a massage, a haircut or even to get her nails done. Soon she'll have no time for those special treats."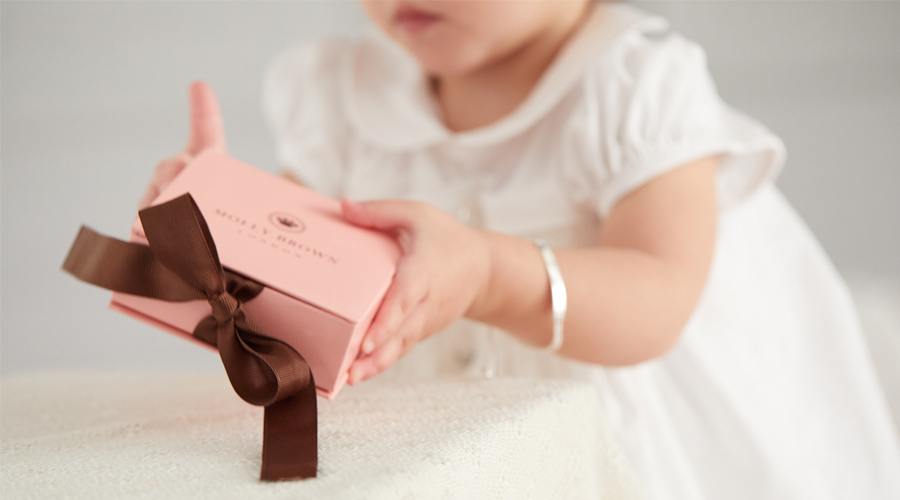 If you're looking for some gift inspiration, we've got plenty of ideas for mother and baby, as it's important to consider the mum-to-be as well! Laura, the mum behind autumnsmummyblog, gives us some great tips to consider when gift shopping.
"Don't forget the mum-to-be! Treats such as chocolate or something she's craving, as well as more practical gifts like maternity pads will be appreciated. If you do go for baby outfits, it might be better to select a larger size than newborn or 0-3 months. Those are the sizes most people choose, so people often end up with lots of clothes in them, yet the baby grows out of them very quickly!"
Nappies and wipes

A bassinet

Baby clothes and booties

Baby bottles

Baby toys

A baby journal or record book

A gift voucher for a baby photoshoot

Pampering and skincare bits for the mum-to-be
Pitching money together with others is also a good idea as you could opt for larger, more expensive items like car seats, prams and cots.
Baby Shower Activities
It's important to bear in mind that sometimes your guests might not know each other. If this is the case, prepare some ice-breakers to prevent any awkward exchanges and to break up the day.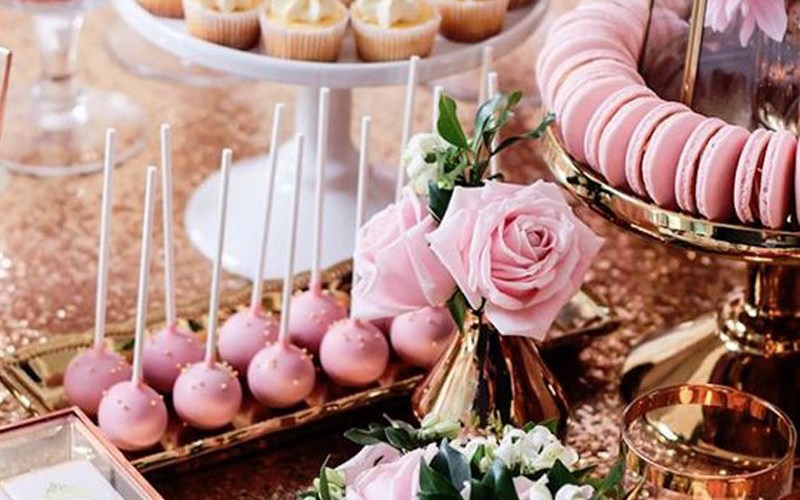 Guess the date, guess the weight, etc
An easy way to get everyone involved is to have guests guess the date, time and weight of the baby at birth. You can have them write it down on a slip of paper, or pinned to a nicely decorated board, and whoever guesses the closest is the winner.
Pin the dummy on the baby
Revamp the classic children's party game for a baby shower.
Decorate the onesie
Set up a creation station where guests can compete to design the best onesie for a fun afternoon activity.
Changing nappy race
Race to see which guest can change a nappy on a baby doll the fastest.
Guess the baby picture
A sweet way to get everyone involved is to request that each guest bring a baby picture of themself. Everyone can then try to guess which guest belongs to which picture.
For a full range of gift ideas, discover beautiful baby and children's jewellery at Molly Brown London. Our high quality, luxury pieces are made with love for a gift like no other. We also offer complimentary gift wrapping and engraving so you can add that personal touch that she'll treasure forever.